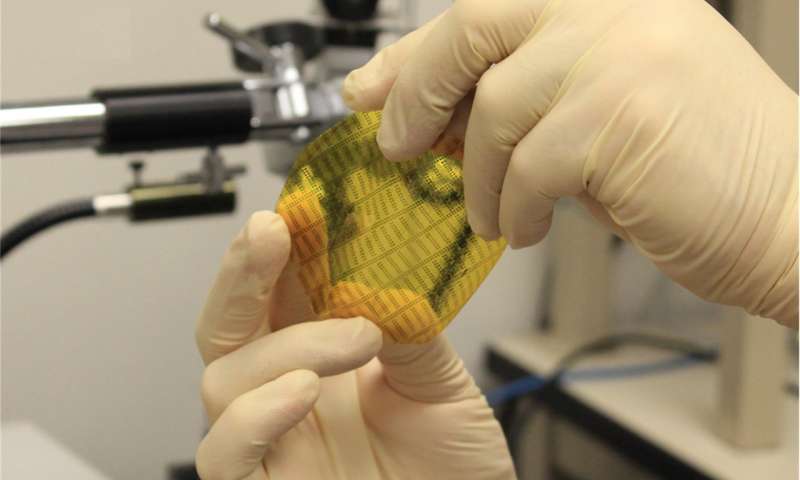 Smart skin technology. Source: University of Texas at Arlington
The idea that one day robots might be more sensitive to touch is something that the University of Texas at Arlington (UTA) is banking on as evidenced by a recent patent for smart skin developed by a UTA researcher.
"The idea is to have robots work better alongside people," said Zeynep Çelik-Butler, a UTA electrical engineering professor. "The smart skin is actually made up of millions of flexible nanowire sensors that take in so much more information than people's skin. As the sensors brush against a surface, the robot collects all the information those sensors send back."
According to Çelik-Butler, the flexible sensors, which are roughly 0.2 microns in diameter, are made up of zinc oxide nanorods. Additionally, the sensors are self-powered, meaning that they do not require external voltage in order to operate them.
Packaged in a chemical and moisture resistant polyimide, the sensors are designed to be used in even the harshest environments.
As such, the smart skin lets robots detect temperature changes and surface variations, making it safer for humans working alongside the robot outfitted with such technology.
The number of potential future applications for the technology include enabling prosthetic devices to feel something as well as for fingerprint identification.
"These sensors are highly sensitive and if they were brushed over a partial fingerprint, the technology could help identify who that person is," Çelik-Butler said. "Imagine people being able to ascertain a person's identity with this hairy robot, as my students call it."
"Robots are the here and now," said Teri Schultz, director of technology management in the UTA Office of Research. "We could see this technology develop with the next generation of robots to allow them to be more productive in helping people."

To read the original journal article detailing the technology that inspired the patent, go to IEEE Sensors Journal.