Welcome to this week's edition of the Engineering360 news brief.
Restraining Order on 3D Printed Guns
U.S. District Judge Robert Lasnik has issued a temporary restraining order interrupting the sale of 3D-printed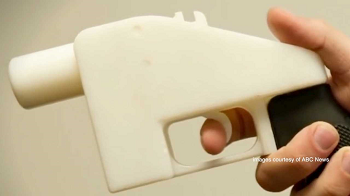 Source: ABC News gun blueprints on the Defense Distributed website, calling the untraceable guns a threat to safety. The 3D-printed gun blueprints, which became available online five days earlier than announced, spurred government officials into action as background checks are not required for purchasing the blueprints and known criminals can easily access them. "These downloadable guns are unregistered and very difficult to detect, even with metal detectors, and will be available to anyone regardless of age, mental health or criminal history," said Washington State Attorney General Bob Ferguson. Another hearing on the matter is scheduled for August 10.
Technology to Quit Smoking
Expanding on the menu of products to help people quit smoking, researchers from Case Western Reserve University are hoping to introduce sensor technology to the list of available options. The research team has developed an automatic alert system that relies on sensors and a smart-phone app to prevent smokers from lighting up. The system works when wearable sensors detect particular arm movements and body motions suggestive of smoking. Once detected, the smartphone app automatically texts the wearer short video messages meant to encourage the smoker to stop or about the health risks they will encounter if they don't stop. Although wearable technology has been used in the battle against addiction, Case Western Reserve researchers may be the first to test a system that includes an online platform training, a personalized smoking plan for quitting, two armband sensors and a personalized texting service meant to discourage smoking.
Drone Specialized Landing Pad
Payment tech company Worldpay is experimenting with a new drone technology to combat parcel fraud. The prototype involves a drone landing pad that customers put in front of their door, which doubles as a doormat. The concept uses EMV contactless payment card technology to verify the identity of the recipient, which is embedded in the drone landing pad. When a drone lands to drop off the package, the card details stored within the doormat are read automatically. If the information matches, the parcel is released. Drone deliveries are expected to explode in the next few years with numerous companies experimenting with the technology in order to expedite shipments, decrease shipping costs and make delivery more secure. The complete story can be found on the Engineering360 website.
While there, check out Electronics360 for more news and information like this – plus engineering reference guides, product spec sheets and videos of interest.