Nissan Sells Majority Stake in Its Battery Business
David Wagman | August 03, 2018
Shanghai-based Envision says it will buy a controlling stake in Automotive Energy Supply Corp., the electric battery operations and production facilities of Nissan Motor Co., Ltd.
Nissan will retain a minority equity stake in the company. Terms were not disclosed.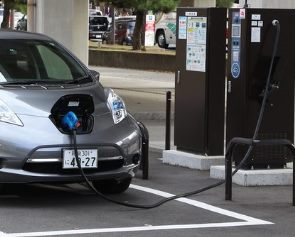 A Nissan Leaf at a charging station.Envision intends to integrate its IoT technology to make intelligent batteries and incorporate millions of electric vehicles into a future energy network.
Envision owns an intelligent IoT operating system, EnOS, which currently connects more than 50 million smart devices used for wind, solar, energy storage, charging networks, electric vehicles and home energy management.
AESC's lithium-ion batteries power more than 340,000 Nissan LEAF vehicles.
Envision intends to upgrade AESC's existing production facilities in Japan, the U.K. and the U.S. to enable the production of higher density, long-range electric batteries. Envision also intends to open new production facilities in Wuxi, China, enabling AESC to serve the Chinese market for electric vehicle batteries and stationary lithium-ion batteries.