Bacteria Engineered to Tap Atmospheric Nitrogen and Produce Fertilizer
S. Himmelstein | July 17, 2018
There are no plants that can capture nitrogen from the air but there is a subset of cyanobacteria that can. Researchers are exploring this mechanism with the goal of eventually transferring fertilizer creation capabilities to plants.
Engineering crop plants that produce their own fertilizer would be of enormous benefit to agriculture in terms of increased food production and environmental sustainability. Creating commercial fertilizer is an energy-intensive process that emits greenhouse gases. These chemicals are also an inefficient delivery system for nitrogen, as less than 40 percent of the nitrogen in commercial fertilizer makes it to the plant. Runoff is another ecological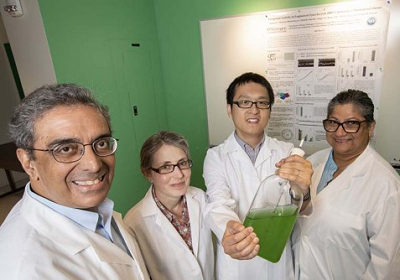 Researchers engineered a bacteria that uses photosynthesis to create oxygen during the day, and at night uses nitrogen to create chlorophyll for photosynthesis. Source: Joe Angeles/Washington Universityproblem, resulting in polluted water bodies and algal blooms.
Recognizing that Earth's atmosphere is about 78 percent nitrogen, researchers from Washington University, St. Louis, engineered a bacterium that can make use of that atmospheric gas. The microbe used, Cyanothece, is able to fix nitrogen because cyanobacteria are the only bacteria that have a circadian rhythm. Cyanothece photosynthesizes during the day, converting sunlight to chemical energy consumed as fuel, and fixes nitrogen at night after removing most of the oxygen created during photosynthesis through respiration.
The researchers planned to take the genes from Cyanothece, responsible for this day-night mechanism, and insert them into another type of cyanobacteria, Synechocystis, to coax it into fixing nitrogen from the air, too.
Oxygen was manually removed from Synechocystis, followed by addition of a set of 35 genes from Cyanothece. The former fixed nitrogen at 2% of Cyanothece and removal of certain genes was shown to boost this rate. With just 24 of the Cyanothece genes, Synechocystis was able to fix nitrogen at a rate of more than 30% of Cyanothece.
Nitrogen fixation rates dropped markedly with the addition of a little oxygen (up to 1 percent), but rose again with the addition of a different group of genes from Cyanothece, although it did not reach rates as high as without the presence of oxygen.
The research team will continue to apply the lessons learned to the development of nitrogen-fixing crop plants. The study is published in mBio.