Video: Blazar Identified as a Source of High-Energy Neutrinos
S. Himmelstein | July 16, 2018
First detected over a century ago, cosmic rays — highly energetic particles that continuously rain down on Earth from space — have puzzled astronomers. What generates these particles and where do they come from?
Observations recently made by the National Science Foundation-supported IceCube Neutrino Observatory at the Amundsen-Scott South Pole Station provide evidence for a known blazar as a source of high-energy neutrinos.
A blazar, a giant elliptical galaxy with a massive, rapidly spinning black hole at its core, emits twin jets of light and elementary particles, one of which is pointing to Earth, emitted from the poles along the axis of the black hole's rotation. This blazar — designated as TXS 0506+056 — is situated off the left shoulder of the constellation Orion and is about 4 billion light-years from Earth.
NASA's orbiting Fermi Gamma-ray Space Telescope was the first telescope to identify enhanced gamma-ray activity from TXS 0506+056 within 0.06 degrees of the IceCube neutrino direction. In a decade of Fermi observations of this source, this was the strongest flare in gamma rays, the highest-energy photons.
The data prove that TXS 0506+056 is one of the most luminous sources in the known universe and lend support to a multimessenger observation of a cosmic engine powerful enough to accelerate high-energy cosmic rays and produce the associated neutrinos. Only one of these neutrinos, out of many millions that sailed through Antarctica's ice, was detected by IceCube in September 2017.
IceCube, built specifically to identify and track high-energy neutrinos, is by volume the world's largest particle detector. The facility is situated in a cubic kilometer of pristine ice a mile beneath the surface at the South Pole and is composed of more than 5,000 light sensors arranged in a grid. When a neutrino interacts with the nucleus of an atom, it creates a secondary charged particle, which produces a characteristic cone of blue light that is detected by IceCube and mapped through the detector's grid of photomultiplier tubes. Because the charged particle and light it creates stay essentially true to the neutrino's direction, they give scientists a path to follow back to the source.
The research is published in Science.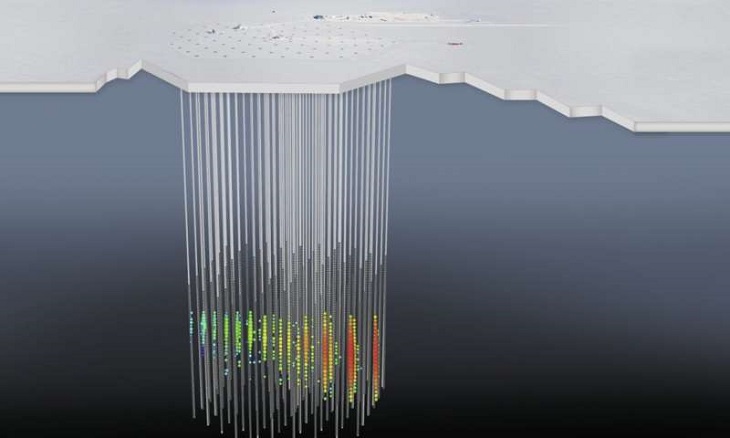 An artistic rendering of the IceCube detector (based on an aerial view) shows the interaction of a neutrino with a molecule of ice. Every colored circle represents light collected by one of the IceCube sensors. The color gradient, from red to green/blue, shows the time sequence. Source: IceCube Collaboration/NSF