Three locomotives recently powered an autonomous train in the Pilbara of western Australia, marking the first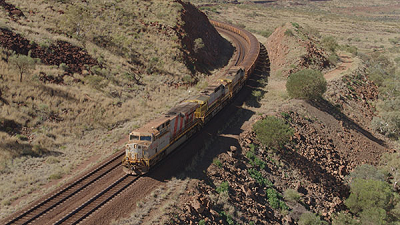 The remotely monitored autonomous train carried 28,000 tons of iron ore traveled over 280 km (174 miles) 280 km. Source: Rio Tintodelivery of iron ore by Rio Tinto's "world's largest robot."
The train brought 28,000 tons of iron ore over 280 km (174 miles) to the port of Cape Lambert in an operation that was monitored remotely in Perth more than 1,500 km (932 miles) away. Locomotives carrying AutoHaul software are fitted with on-board cameras allowing for constant monitoring from the operations center.
Once commissioned, the company's AUS$940 million AutoHaul project will be the world's first heavy haul, long-distance autonomous rail operation. Completion is expected by the end of this year, affording safety and productivity gains for the business and reducing bottlenecks in the iron ore supply chain.
Rio Tinto now operates about 200 locomotives on more than 1,700 km (1,056 miles) of track in the region, transporting ore from 16 mines to four port terminals.