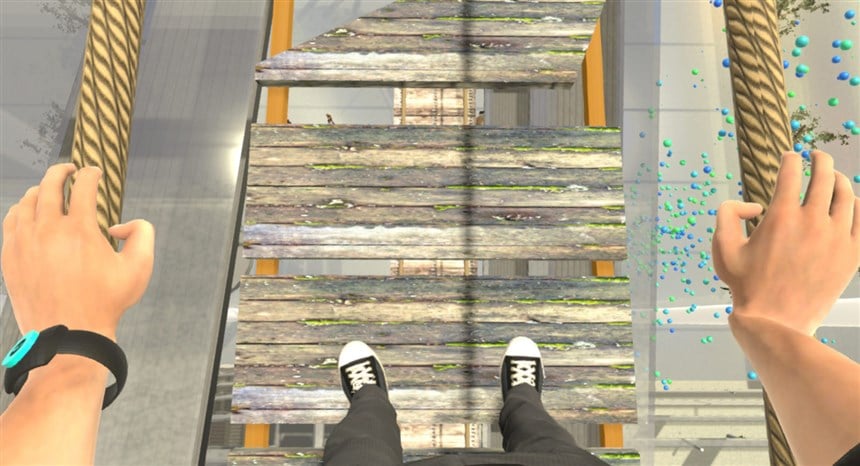 A virtual reality treatment approach helped people conquer their fear of heights. Here, the VR headset helps someone "walk" across a rope bridge. Source: Oxford VR at University of OxfordA team of researchers from the University of Oxford has discovered yet another use for virtual reality (VR) that could one-day be used to treat people suffering from a fear of heights.
Acrophobia, which is an extreme fear of heights, affects a significant number of people worldwide — one in 5 people report such an affliction. Consequently, a British research team has set out to see how VR might help to remedy that fear.
"The outcome results are brilliant. They are better than I expected," said Daniel Freeman, the University of Oxford clinical psychologist who led the study team.
Enlisting the help of 100 volunteers who expressed a long-standing fear of heights, the team gave roughly half of the study participants six VR sessions over the course of two weeks. The other half did not participate in the VR sessions.
In that time, the team found that the VR sessions successfully eliminated the fear of heights in a significant number of those who participated in the sessions.
"On average, fear of heights came down by two thirds. Three-quarters of people showed at least a halving in their fear of heights," Freeman said.
"Afterwards, people even found they could go to places that they wouldn't have imagined possible, such as walk up a steep mountain, go with their children on a rope bridge, or simply use an escalator in a shopping center without fear."
Using a virtual therapist to guide the participant along, the VR sessions offered participants a chance to experience scenarios such as walking over a virtual rope bridge or rescuing a cat from a tree limb.
The VR technology is also being applied in the treatment of other mental health conditions such as schizophrenia.
"VR has extraordinary potential to help people overcome mental health problems because it gets to the heart of successful treatment: making people feel better in everyday life," said Freedman.
"In VR, people can repeatedly enter simulations of the everyday situations that trouble them and be guided in the very best ways to think, feel and behave."
Though VR has been used in the treatment of acrophobia before, this study marks the first time that the technology was used without the guidance of a mental health professional.
"There are too few skilled therapists delivering the best treatments to meet the high demand, meaning that millions of people are left waiting for the right help," Freeman said.
As such, the research team believes that the VR software could reach more people.
"It is also notable that instead of the traditional approach of weekly sessions with a therapist, you can really speed up progress by having daily sessions with a VR treatment," according to Freedman
"We've found that patients are really very enthusiastic for VR treatments," he said.