Fly Ash Concrete is Eco-Friendly and Stronger than Traditional Concrete
Siobhan Treacy | July 12, 2018
Washington State University (WSU) researchers have developed a method to sustainably create eco-friendly concrete. The new method uses coal fly ash, a waste material is a result of coal-based electricity. The new method reduced the impact of the production of concrete, as well as making use of a waste product that would have gone unused.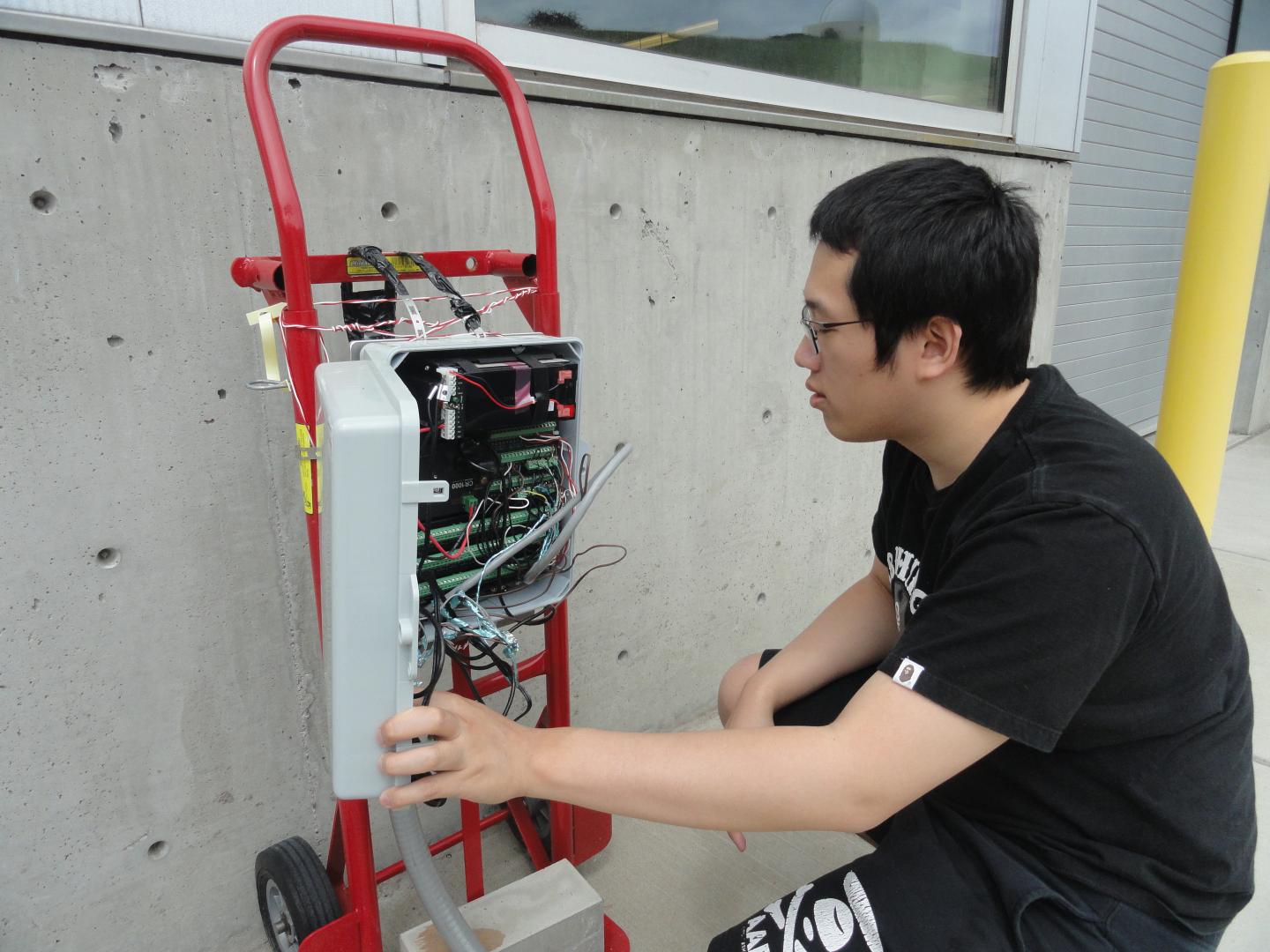 Chemical engineering student Ka Fung Wong looks at the data log, which is used to gather data from sensors buried under the concrete test plot. (Source: WSU)
Concrete production, combining sand and gravel, contributes five to eight percent of greenhouse gas emissions. The manufacture of traditional concrete also requires high temperatures and a lot of energy, which is far from eco-friendly.
Fly ash is a material that is left over after coal dust is burned -- 50 percent of fly ash winds up in landfills and risks leaking into and harming the surrounding environment. Fly ash has been used in the past to create concrete, but still requires high temperatures. The new method developed by the WSU researchers changes this.
The team used nano-sized materials to engineer the fly ash concrete at a molecular level so it does not require high temperatures. Graphene oxide was used to manipulate the way that the fly ash reacts to water, which therefore turns the activated fly ash into cement at a lower temperature. This method creates a calcium-aluminate-silicate-hydrate molecule chain, forming an inorganic polymer network that is more durable than traditional cement.
Fly ash is a pervious material which allows water to pass through the concrete, replenishing the groundwater and lowering the potential for flooding.
The fly ash concrete's strength and behavior have been tested under various load and temperature conditions on the WSU campus. The researchers continue to gather data and conduct infiltration tests using sensors placed under the concrete.
The paper on the fly ash concrete was published in the journal Fuel.