Pigments extracted from marine back shales in Mauritania, West Africa, by an international team of researchers likely represent the oldest colors in the geological record. These pigments are more than half a billion years older than previous pigment discoveries, and more significantly confirm that cyanobacteria dominated the base of the marine food chain a billion years ago.
The colors are linked to the molecular fossils of chlorophyll, a pigment that enables plants to photosynthesize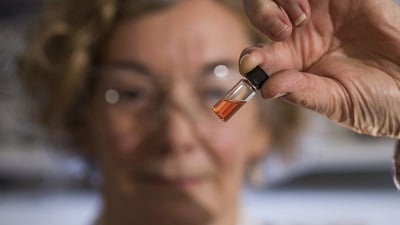 A vial of the pink compounds representing the oldest intact pigments in the world. Source: Australian National Universitysunlight into energy. In the ground, the fossil materials appear to be blood red or deep purple, and once extracted, crushed and diluted, they take on a bright pink color.
The findings have implications for fleshing out the world's evolutionary record: the dominance of cyanobacteria accounts for the absence of more advanced biotic forms 1.1 billion years ago. Despite their prevalence, these microorganisms could not have provided a food supply sufficient to support the emergence of larger organisms.
The researchers explained that a lack of algae and the small cell size of bacterial phytoplankton may have curtailed the flow of energy to higher trophic levels, potentially contributing to a diminished evolutionary pace toward complex eukaryotic ecosystems and large and active organisms.
Scientists from the Japan Agency for Marine–Earth Science and Technology, Australian National University, Florida State University, Geoscience Australia and University of Liège (Belgium) contributed to this research.