The world's first AP1000 nuclear power plant, located in Sanmen, Zhejiang Province, China, has begun initial connection to the electrical grid.
Westinghouse Electric Co., China State Nuclear Power Technology Corp. and CNNC Sanmen Nuclear Power Co. say that Sanmen 1's turbine generator is connected to the grid and has begun generating electricity.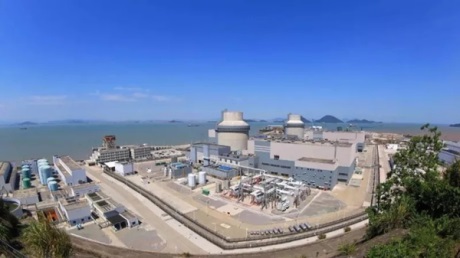 The Sanmen nuclear generating station. Credit: WestinghouseSanmen 1 has a nameplate generating capacity of 1,117 megawatts (MW). It is the first of a fleet of four AP1000 plants in eastern China that are being built. The plants have an expected lifespan of more than 60 years.
Westinghouse currently has six AP1000 nuclear power plants progressing through construction, testing and start-up. These projects include two units in Sanmen, Zhejiang Province, China, two units in Haiyang, Shandong Province, China and two units under construction at the Alvin W. Vogtle Electric Generating Plant near Waynesboro, Georgia.
In late June, fuel loading began at the Haiyang station. Westinghouse says that the plant's start-up process includes a now-completed testing phase, the currently occurring fuel load, initial criticality and synchronization to the electrical grid including ramping to 100 percent power.
In late March 2017, Westinghouse filed voluntary petitions under Chapter 11 of the U.S. Bankruptcy Code. The company said it was restructuring as a result of financial and construction challenges in its U.S. AP1000 power plant projects.
As part of the fallout of that reorganization, utilities South Carolina Electric & Gas Co. and state-owned Santee Cooper scrapped work on two 1,117 MW units at V.C. Summer Nuclear Station in Fairfield County, South Carolina.
As part of the reorganization, Toshiba said in April that it completed the sale to Brookfield of its share of Toshiba Nuclear Energy Holdings (US) Inc., the indirect holding company of Westinghouse Electric Co. In early January, Brookfield agreed to acquire all of Westinghouse from Toshiba for about $4.6 billion.