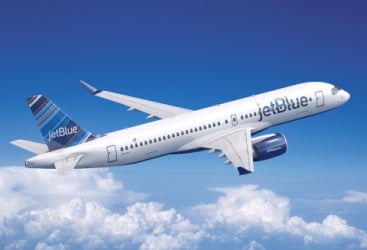 JetBlue A220-300.
JetBlue says it has ordered 60 Airbus A220-300 aircraft — previously called the Bombardier CS300 — for delivery starting in 2020. The airline also has an option for 60 additional aircraft beginning in 2025.
The aircraft will be powered by Pratt & Whitney Geared Turbofan (GTF) PW1500G engines, and will be assembled in Mobile, Ala. Reports say the order has a list price of around $5.4 billion. Discounts frequently lower the actual price well below list.
The airline says it expects the new fleet to deliver around 40 percent lower fuel burn per seat than its current Embraer E190 fleet, along with lower noise and emissions.
JetBlue says it plans to phase in the A220-300 to replace its existing fleet of 60 Embraer E190 aircraft. The aircraft's range and seating capacity will enable it to schedule transcontinental routes and reach new markets that would have been unprofitable with JetBlue's existing fleet.
The A220 was designed to seat between 130 and 160 customers, up from the current 100-seat Embraer configuration.
JetBlue plans to take delivery of the first five aircraft in 2020 with deliveries to continue through 2025.