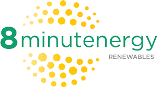 San Francisco-based 8minutenergy Renewables says it has energized Phases 1 and 2 of the 328 megawatt-dc Mount Signal 3 solar photovoltaic (PV) project in California's Imperial Valley.
The project is part of the 800 MW Mount Signal Solar Farm. The developer says it expects to bring Mount Signal 3 to commercial operation by the end of 2018. 8minutenergy earlier developed the 260 MW Mount Signal 1 project.
Mortenson Construction is providing the engineering, procurement and construction (EPC) contracting. First Solar supplied the 2.8 million Series 4 thin-film solar panels. And NEXTracker supplied its NX Horizon smart solar tracker. Utility Southern California Edison signed a long-term power purchase agreement for the project's output in 2014.
Mount Signal 3 is being built on 2,000 acres of what the developer says is low-productivity farmland.