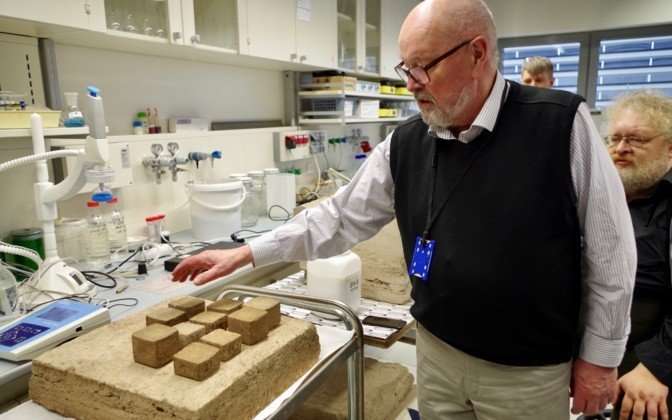 After determining the humic and fulvic acid content in peat and conducting the XRD analysis of elements and minerals, the possible test mixtures were modeled and small test pieces printed. Toomas Tenno is showing the test pieces. Source: Merilyn Merisalu.
Hoping to create construction material using local natural resources, scientists from the Estonian University of Life Sciences and the University of Tartu have developed such a material, using a combination of peat from the nearby Estonian wetlands and oil shale ash, that could one day be used to print energy-efficient homes using a 3D printer.
Typically, peat from the nearby wetlands goes unused, yet researchers found that many substances can be extracted from the material, including humic substances and waxes. The team also determined that residue from the peat can be used to make cellulose.
"So far, no one has produced peat composite as a construction material because peat prevents many materials from hardening. In our project, we managed to overcome this issue," said study author Jüri Liiv.
In lieu of traditional cement, the team from Tartu used oil shale ash — of which seven million tonnes are produced each year in Estonia and only five percent of which is ever reused — to bind the peat mixture. Left unused, the oil shale ash accumulates on ash hills, creating significant environmental pollution.
Once bound, chemical reactions take place between the oil shale ash and the humic acids and absorbs carbon dioxide. As such, the binder then becomes traditional concrete and limestone. Nano-sized additives (nanosilica or silicon smoke) are then added to the peat and oil shale ash mixture, thereby improving their properties.
"As the particles are very small, they dissolve well and distribute throughout the material evenly. Silicon smoke improves the quality of this material significantly," said Toomas Tenno, a professor at the University of Tartu's chair of colloidal and environmental chemistry.
The final product, once hardened, proved to be both strong and lightweight with high thermal conductivity and low heat transfer.
The team believes that because the material is inexpensive, the cost associated with the construction of a new home could be significantly reduced. Yet, while the material is ready for manufacture, researchers expect that more time will be needed for 3D printing to catch up.
The research is published in the journal Sustainable Materials and Technologies.