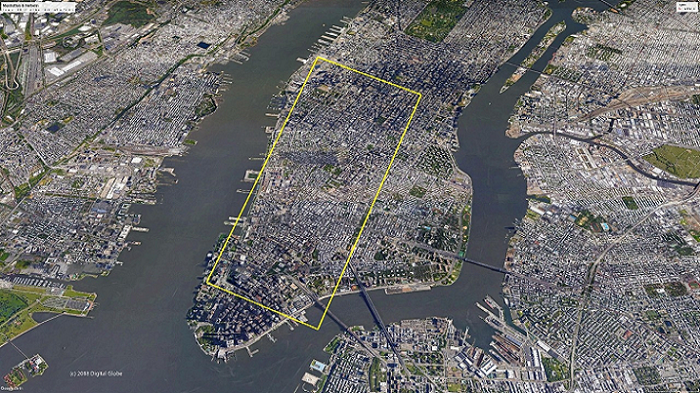 An iceberg recently broken off from Greenland's Helheim Glacier would stretch from lower Manhattan up to Midtown in New York City. Source: Google Earth/Denise Holland
This dramatic video captures the calving of a four-miles-wide iceberg from the Helheim Glacier in eastern Greenland. The 30-minute event was recorded in June 2018 by researchers from New York University, who said that the video documents sea level rising noticeably as the ice disintegrates.
The scientists were perfectly positioned to observe the calving, affording the opportunity to document ice breakup patterns. The data gleaned can be used to improve the accuracy of simulations used to model iceberg calving and predict climate change.
The event begins as a tabular, or wide and flat, iceberg that calves off and moves away from the glacier. Pinnacle bergs, or thin and tall icebergs, then detach and flip over. The camera angle then shifts to show movement further down the fjord, where one tabular iceberg crashes into a second, causing the first to split into two and flip over.
The researchers are investigating the forces behind sea-level rise and contributions from ice sheet losses. Recent estimates suggest that a collapse of the entire Western Antarctic Ice Sheet would result in a 10-feet-rise in sea level — enough to overwhelm coastal areas around the globe, including New York City.