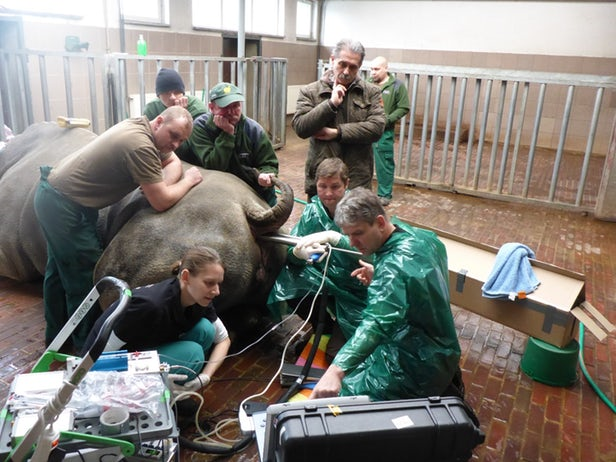 An anaesthetized white rhinoceros positioned in sternal recumbency during oocyte collection. Source: Leibniz-IZW
The northern white rhino (NWR) is in a perilous position — no males exist, as the last one died in March 2018. This leaves only two females as sole representatives of the species. However, a chance to restore the NWR may reside in technology developed by an international team of researchers, who successfully developed hybrid embryos from southern white rhino (SWR) eggs and NWR sperm.
Assisted reproduction techniques were used to produce rhino blastocysts in a test tube, and to establish stem cell lines from blastocysts of the SWR with typical features of embryonic stem cells. Reproduction techniques used in horses were adapted to collect immature egg cells, or oocytes, from the female rhinos, which were then fertilized with sperm obtained from deceased males. Female SWRs are envisioned to serve as surrogate mothers to a new NWR population.
Despite these advances, realizing a self-sustaining population of NWR with the necessary genetic diversity remains a challenge, as the available semen is derived from only four males. To counter this limitation, ongoing research plans to generate gametes through stem cell technology, and to transform these primordial germ cells into eggs and sperm. Such capability would broaden the genetic diversity of future rhino populations.
Scientists from Leibniz Institute for Zoo and Wildlife Research (Germany), Freie Universität Berlin (Germany), Avantea (Italy), Max Delbrück Center (Germany), Berlin Institute of Health (Germany), The University of Melbourne (Australia), ZOO Dvůr Králové, (Czech Republic), Kyushu University (Japan), Helmholtz Center Munich (Germany), University of Teramo (Italy) and Fondazione Avantea (Italy) contributed to this research, which is published in Nature Communications.