A Burst of Magnetic Energy Could Revolutionize Combustion Engine Design
Engineering360 News Desk | July 05, 2018
Flywheels are used in many combustion engines to overcome friction in energy expenditure. As these components are heavy and can reduce acceleration due to the extra inertia, a solution engineered by RK Transportation is to add permanent magnets to the rotor assembly, enabling bursts of perfectly timed energy to the engine by attracting and repelling the magnets from stationary coils.
The inclusion of a lightweight magnetic plate has the potential to add extra torque and reduce inertia as well as fuel consumption.
The design introduces a burst of energy to the engine before it has to compress the air/fuel mixture. This energy is brought in at a time when the piston(s) are either at top dead center or bottom dead center when piston ring-to-cylinder wall friction subsides. A plate embedded with permanent magnets becomes a rotor assembly similar to a brushless DC motor. The magnets line up with coils that when powered up can either repel or attract the magnets.
This burst of energy can be modified by the number of coils that are energized, giving the engine great acceleration at first, and then aiding it at cruising speed. At initial acceleration, all of the coils would be energized to give maximum torque then groups of coils would drop out as the rpm's increase. These extra coils may be used to charge capacitors to aid this device. Eventually, the forward gears in the transmission assembly could be eliminated, saving more energy.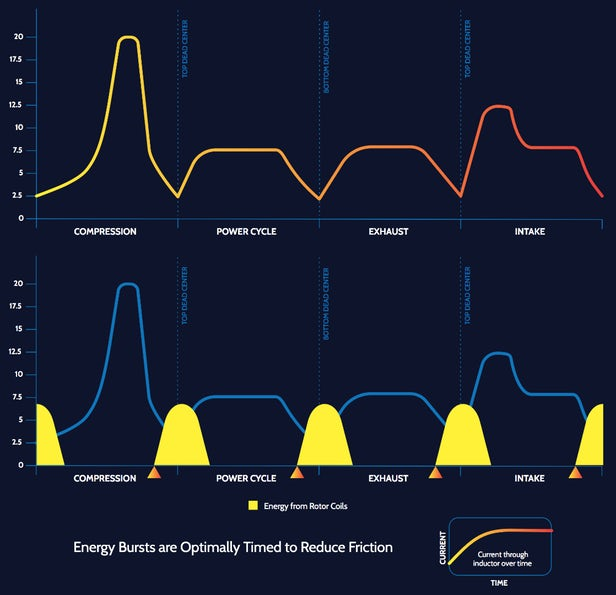 Energy bursts would be applied with the piston at the top and bottom dead centers of its stroke, so as to hit it at the points of minimal friction. Source: RK Transportation