Watch the 5:19.55 Minute Lap Record Set by the Porsche 919 Hybrid Evo
S. Himmelstein | July 04, 2018
The 35-year lap record of 6:11.12 minutes set at Germany's Nürburgring Nordschleife race circuit by Stefan Bellof has been erased. Porsche 919 Hybrid Evo driver Timo Bernhard beat this time by 51.58 seconds. An average speed of 233.8 km/h (145.3 mph) was posted by Bernhard to achieve the 5:19.55 minute lap time.
After some FIA World Endurance Championship (WEC) restrictions were lifted this past winter, the hybrid powertrain of the Evo version of the Porsche 919 Hybrid was modified to develop a system output of 1160 hp. Weighing only 849 kg, the active aerodynamics produce over 50 percent more downforce compared to the 2017 WEC model.
The 919 is powered by a compact two-liter turbocharged V4-cylinder engine and systems which recover brake energy from the front axle combined with exhaust energy. The combustion engine drives the rear axle while the electromotor boosts the front axle to accelerate the car with four-wheel drive. The design recuperates energy from the exhaust system that otherwise would pass unused into the atmosphere. The electrical energy generated by the front brakes and the exhaust system is temporarily stored in a liquid-cooled lithium ion battery.
Under recent WEC efficiency regulations that limited the energy from fuel per lap by using a fuel flow meter, the V4 combustion engine's output was around 500 hp. Freed from these restrictions and equipped with an updated software but running the regular race fuel (E20, containing 20 percent bioethanol), the Evo version delivers 720 hp. With now full boost being available, the e-machine output increased by 10 percent from 400 to 440 hp.
The Evo now sports a four-wheel brake-by-wire system to improve dynamic yaw control, and power steering was adapted for the higher loads and stronger suspension wishbones (front and rear).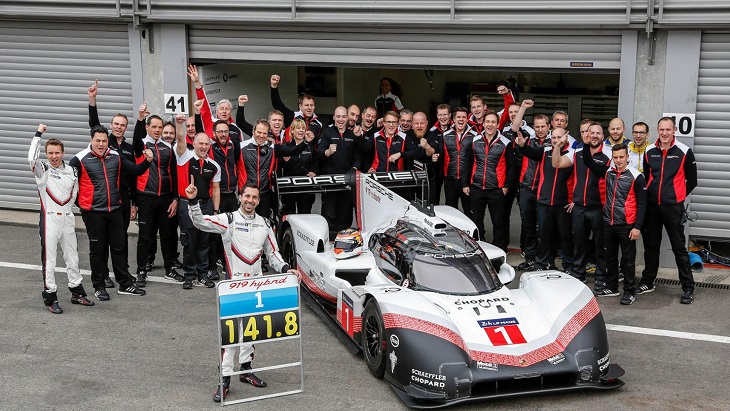 Driver Timo Bernhard and the Porsche LMP Team, Porsche 919 Hybrid Evo. Source: Porsche AG