Single-use straws are the scourge of the packaging-waste world because they don't easily biodegrade and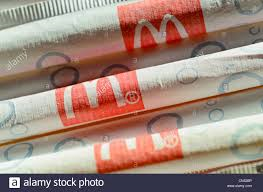 Source: Lenscap/Alamy Stock Photoaren't really necessary for most people when it comes to gulping a soft drink. Fast food giant McDonald's plans to replace its plastic straws with paper ones across all of its restaurants in the UK and Ireland by 2019. This policy is in line with the company's goal to source 100 percent of guest packaging from renewable, recycled or certified sources by 2025 and to have guest packaging recycling in all restaurants globally.
McDonald's has also begun testing alternatives to plastic straws in Belgium. Later this year, the company will begin testing alternatives in select restaurants in the U.S., France, Sweden, Norway and Australia. Another initiative in Malaysia and other markets: straws will be offered upon request only.