Blubber-Inspired Wetsuit Coating Allows Divers to Last in Frigid Water for Two to Three Hours
Siobhan Treacy | June 19, 2018
MIT researchers have developed a new artificial blubber coating wetsuit designed for rescue teams and Navy SEALs. The new wetsuits could triple the amount of time a rescuer could last in freezing water conditions.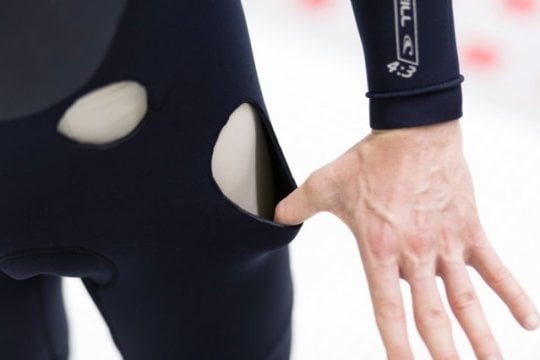 Holes in a wetsuit reveal the thickness of the neoprene material. The new MIT-developed treatment could provide the same amount of insulation with just half the thickness, the researchers say. Source: MIT
Current wetsuits allow for an hour or less of water time. For years, military teams have been searching for new ways for the rescue teams to go on longer missions.
That is where the MIT researchers come in. The researchers developed a method to create a wetsuit coating that keeps the user warm and dry.
The researchers found their inspiration from the three known methods that cold-water dwelling animals use to keep warm. Animals like otters or penguins have air pockets trapped in their fur or feathers. Fish have internally generate heat from being warm-blooded. Finally, seals and whales use a layer of insulating material, called blubber, which slows down heat loss from the body.
The researchers used both the otter and seal methods in the new coating. They developed a blubber-like material that insulates the person in the suit, while also using pockets of trapped gas introduced during the manufacturing process. Neoprene, the standard material to create wetsuits, is a mix of synthetic rubber that is processed into foam with a similar cell structure to styrofoam. In the cell structure, there are pockets of air, similar to those of otters and penguins. The wetsuit's pockets are formed by the xenon or krypton introduced in a pressure tank. The total coating lasts about 20 hours, but the air pockets can be regenerated for reuse.
The wetsuit has the lowest heat transfer of any wetsuit ever made. According to the researchers, it sets the record for world's lowest thermal conductivity in a wetsuit.
The wetsuit improved the water sustainability significantly in water colder than 10 degrees Celsius. The suit allows divers to last in the water for two to three hours, almost triple the amount of time as current wetsuits.
The next step for the researchers is to make the coating last longer. They believe that they could make it last by placing a protective layer over it, but further testing is necessary to confirm this.
The paper on this technology was published in RSC Advances.