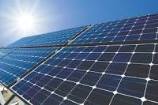 GCL New Energy Inc., a unit of China-based GCL Group, has signed a long-term power purchase agreement (PPA) with Intermountain Rural Electric Association (IREA) for a 110 megawatt solar power project in Colorado.
The project is located on a 611-acre site 35 miles east of Denver. The total potential annual yield is around 215 million kilowatt-hours, and plans call for it to connect to the grid in 2020.
The PPA has a fixed initial contract term of 10 years, with three optional five-year extensions, for a possible 25-year lifetime.
GCL New Energy says it has shifted its development strategy from focusing solely on the Chinese market to expand in overseas markets. It has three regional headquarters in North America, Japan and Africa. In 2017, it launched "Overseas Seeding Initiative" in key overseas target markets.
In April, GCL System Integration Technology Co. Ltd. signed a memorandum of understanding with Softbank Vision Fund to set up a joint venture company in India. The venture is intended to manufacture and sell PV ingots, wafers, batteries and modules. Total investment could reach $930 million.
Through the Colorado solar energy project, GCL New Energy says it hopes to gain experience developing a U.S. greenfield project, creating a development model for future projects. The process includes land lock-up, an on-grid feasibility study, negotiating and signing a grid connection agreement, securing land permits and PPA negotiation and signing.
GCL New Energy says it hopes to have 3,000 MW of solar projects worldwide by 2020.