Fight Over Moon Dust from Neil Armstrong Goes to Court
Marie Donlon | June 14, 2018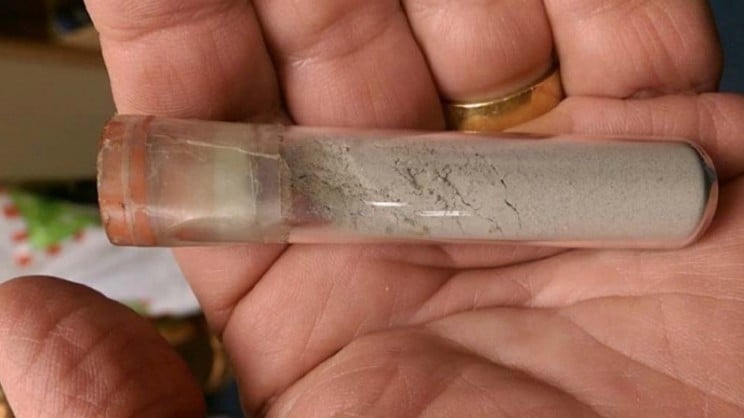 Source: Christopher M. McHughA vial allegedly containing moon dust collected by astronaut Neil Armstrong during the Apollo 11 mission in 1969 is now at the heart of a lawsuit filed by a woman claiming that the astronaut had gifted it to her when she was just 10-years old.
Laura Murray Cicco is claiming in U.S. District Court that the glass vial, which contains silver-grey dust, accompanied a personal note from the astronaut written on the back of one of her father's business cards. The note, which reads: "To Laura Ann Murray – Best of Luck – Neil Armstrong Apollo 11," is considered a match with samples of Armstrong's handwriting.
It was Cicco's mother who told her that the vial contained moon dust.
"Astronaut Neil Armstrong gifted the vial of lunar dust at issue to Laura Ann Murray, now Laura Murray Cicco, when she was a child, and she is the rightful and legal owner of the vial and its contents. Therefore, she requests judgment declaring her the rightful and legal owner of the vial and its contents, and vesting title in her name," according to the court documents.
According to the court documents:
"Before he was an astronaut, Armstrong served as a naval aviator in the Korean War aboard the aircraft carrier USS Essex. After leaving the space program, Armstrong taught in the Department of Aerospace Engineering at the University of Cincinnati. Armstrong was friends with Tom Murray (Cicco's father)."
"Murray was a top pilot in the U.S. Army Air Corps during WWII. He trained pilots for the Boeing B-17 Flying Fortress. In 1962, Murray and his wife had a daughter, Laura Ann Murray. In 1969 or 1970, the Murray family moved to Cincinnati."
"The signature of Armstrong on the card has been authenticated by an expert. XRD and XRF testing show the glass vial contains lunar material. A copy of the testing report is attached as Exhibit 3."
Chemists from Bruker Corporation in Billerica, Massachusetts, explained that the space dust sample was "consistent with the known composition of lunar regolith."
As such, NASA wants to reclaim the space dust, which challenges a 2012 law set forth by former President Barack Obama giving astronauts ownership over the artifacts they collected during space missions.
"A United States astronaut who participated in any of the Mercury, Gemini, or Apollo programs through the completion of the Apollo-Soyuz Test Project, who received an artifact during his participation in any such program, shall have full ownership of and clear title to such artifact," according to law. However, there's a loophole, as the law "does not include lunar rocks and other lunar material."