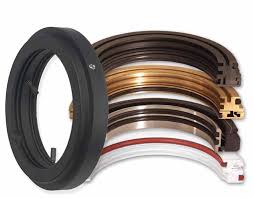 Protech labyrinth seal. Source: Parker Hannifin CorporationCaustic, high-speed and high-temperature environments are difficult operating conditions for most seals. Parker ProtechTM bearing isolators' non-contact labyrinth seal technology provides both zero lubricant leakage and total exclusion of contaminants. Protech seals are manufactured from advanced PTFE compounds with superior chemical resistance to tackle such harsh environments. This allows for standardization of a single material in a plant, eliminating the need to stock the same size seals made from expensive materials such as stainless steel, Hastelloy and other materials.
Protech seals can replace radial oil seals in critical applications. The non-contact design will not wear grooves into the shaft, has virtually no torque consumption, and allows the seals to run dry with no lubrication, and operate at higher shaft speeds than radial seals. The two-piece design makes installation easy and will not leak while keeping water and dust out. Protech's design allows for more axial movement than other labyrinth seals without leakage and has been independently tested to IEEE 841 as well as IP55, IP56, IP66 and IP69k.
Protech seal features. Source: Parker Hannifin Corporation
If switching from an existing seal, Protech seals can be machined to retrofit to most bores and shafts, without additional tooling charges.
Not all designs are the same, and Protech seals are available in multiple design configurations such as flanged, non-flanged, pillow block, split, wash down and others. If none of the twelve standard designs fit the bill, custom seals can be provided.
Source: Parker Hannifin Corporation
Parker Protech seals are available from Web Seal and other leading distributors.
For additional information and specifications, see the Protech product brochure.