For demanding gearbox applications requiring high speed, precision motion, low backlash or special environmental conditions, Diequa's high Tandler Spiral Bevel Gearboxes may be just what is needed.
Tandler Spiral Bevel Gearboxes by Diequa combine high precision and rugged construction for the ultimate in performance and design versatility.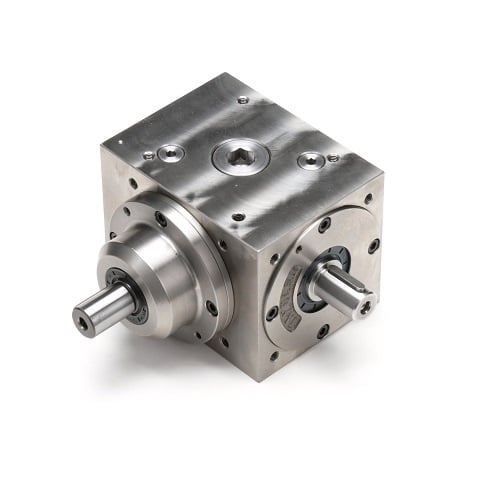 Tandler Standard Design series; Source: DiequaTandler gearboxes are available in many standard configurations, including:
Standard design: Available in nine sizes and 11 ratios, with single or dual output shafts.
Hollow output shaft: Multiple output options including a bore with keyway, two spline profiles or a shrink disc.
Reversing and Disengaging: Three series (S, AS and W) that all allow manual drive disengagement or direction reversing in right angle and inline configurations.
Reinforced shaft: Commonly used in line-shaft applications where only a proportion of the full torque is taken off the main drive shaft at various intervals.
Auxiliary shaft design: Two series (EA and ZA) that both provide additional power take-off shafts either in the same or different planes.
High torque density/power master: For demanding industrial applications, these gearboxes feature a special internal design offering higher torque density and more robust design.
Stainless steel: All stainless steel VA series for high performance or precise motion control requirements.
For applications with unique requirements, Diequa can create custom solutions.
Regardless of which model is best suited for an application, all Tandler Spiral Gearboxes feature:
Low backlash
High durability
Wide range of models and ratios
Completely machined housings
All metric dimensions
Custom designs available
For additional information and complete specifications, visit the Diequa website.