ExxonMobil and Plains All American Pipeline, L.P. plan to create a joint venture to build a pipeline to transport crude oil and condensate from multiple locations in the Permian basin to the Texas Gulf Coast.
The proposed common carrier pipeline would be designed to ship more than one million barrels of crude oil and condensate per day. Analysts say the project could cost $2 billion.

The pipeline would originate in both Wink and Midland, Texas, with delivery points in Webster, Baytown and Beaumont, Texas. The two companies say that a priority would be placed on using existing pipeline corridors to help limit potential community and environmental disruptions.
The planned infrastructure investment is the second in as many days involving the Permian Basin. Phillips 66 said it will spend up to $1.5 billion to expand its Sweeny Hub in Old Ocean, Texas.
The project will include two 150,000 barrel-per-day (BPD) natural gas liquids (NGL) fractionators, additional NGL storage capacity and pipeline infrastructure. The new capacity is expected to enter commercial operations in late 2020 and will provide fractionation capacity for Permian Basin NGL production and access to U.S. Gulf Coast petrochemical, fuels and export markets.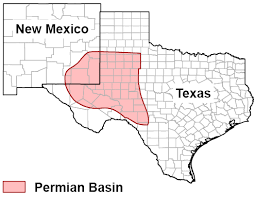 The Permian Basin stretches across part of west Texas and southeastern New Mexico.Oil production in the Permian Basin is forecast to rise nearly three million barrels per day (mbd) by 2023, according to June 2018 report by business information provider IHS Markit.
Total oil production in the Permian will be 5.4 mbd in 2023, more than the total production of any OPEC country other than Saudi Arabia, the report says. Nearly 41,000 new wells and $308 billion in upstream spending between 2018-2023 will drive the growth.
Production of both natural gas and natural gas liquids (NGLs) in the Permian are also expected to double during this period, reaching 15 billion cubic feet per day and 1.7 mbd, respectively.