Advanced Robotics for Manufacturing Awards $2.8 Million to Four Project Teams
Jonathan Fuller | June 12, 2018
Advanced Robotics for Manufacturing (ARM) today announced funding of $2.8 million to four project teams, representing the first round of project funding toward the goal of strengthening U.S. manufacturing.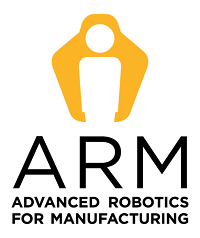 Each project aligns with one or more of ARM's four strategic goals to boost U.S. manufacturing. ARM's four goals include: asserting U.S. leadership in advanced robotics manufacturing; empowering American workers to compete with low-wage workers abroad; lowering the technical, operational and economic barriers for companies to adopt robotic technologies; and aiding in the creation and sustenance of valuable manufacturing jobs.
The four projects receiving funding are:
Robot Assistant for Composites Manufacturing, led by Rensselaer Polytechnic Institute, including team members GE Global Research, Southwest Research Institute, IEEE GlobalSpec, Vistex, Fuzehub, SME and Army Benet Laboratory. The project aims to enhance an operator's capabilities through development of a guided semi-automatic assembly process using industrial robots, improving manufacturing productivity.
Smart Companion Robot for Automotive Assembly, led by Clemson University, with team members Siemens, BMW and Yaskawa. This project aims to develop a Smart Companion Robot (SCR) to complement humans in automotive final assembly.
Robotic Sanding and Finishing, led by Lockheed Martin, with team members Texas A&M University and University of Southern California. The group aims to develop a low-cost, easily reconfigurable robotic sanding system.
iWired: Intelligent Wire Harness Robotically Assembled, led by United Technologies Research Center, with team members University of Connecticut and ABB. This project aims to use collaborative robots to assemble wire harnesses in aerospace production processes.
The teams are contributing a total of $4 million in addition to the $2.8 million contribution from ARM, totaling close to $7 million in total investment.
ARM also expects to announce the selection of projects from its October 2017 formal project call, centering on education and workforce development, later this summer. The collaborative announced its second formal project call last month to supplement the first call.
The four funded projects are separate from the official project calls, and were selected upon ARM's 2017 inception to immediately begin work and serve as examples of ARM's goals and mission.
About ARM
Advanced Robotics for Manufacturing (ARM) is the nation's leading collaborative in robotics and workforce innovation. Structured as a public-private partnership, ARM accelerates transformative robotic technologies and education to increase U.S. global manufacturing competitiveness. Founded in January 2017 in Pittsburgh and partially funded by the Department of Defense, ARM is a Manufacturing USA Institute. Learn more at www.arminstitute.org.