Watch How Water is Harvested from Desert Air
S. Himmelstein | June 11, 2018
Producing water in arid areas is a major goal for a group of researchers from University of California Berkeley, U.S. Lawrence Berkeley National Laboratory and Saudi Arabia's King Abdulaziz City for Science and Technology. A prototype water harvesting system incorporating metal-organic framework (MOF) technology was recently demonstrated to do just that by pulling water out of the air in the desert climate of Scottsdale, Arizona.
Relative humidity at the test site drops from a high of 40 percent at night to as low as 8 percent during the day. The researchers demonstrated that 0.550 kg of a zirconium-based MOF-801 can be incorporated into the harvesting system to produce up to 78 g of water per day-and-night cycle under laboratory conditions, and 55 g in Arizona under natural cooling and ambient sunlight at 5 to 40 percent of relative humidity.
A new aluminum-based MOF is at least 150 times cheaper and captures twice as much water in lab tests. This will enable a new generation of harvesters, producing more than 400 ml (three cups) of water per day from a kilogram of MOF.
The harvester contains an inner box with a two-square-feet bed of MOF grains open to the air to absorb moisture. This is encased in a plastic cube with transparent top and sides. The top was left open at night to let air flow in and contact the MOF, but was replaced during the day so the box could heat up like a greenhouse to drive water back out of the MOF. The released water condensed on the inside of the outer box and fell to the bottom, where it was collected with a pipette.
The research is published in Science Advances.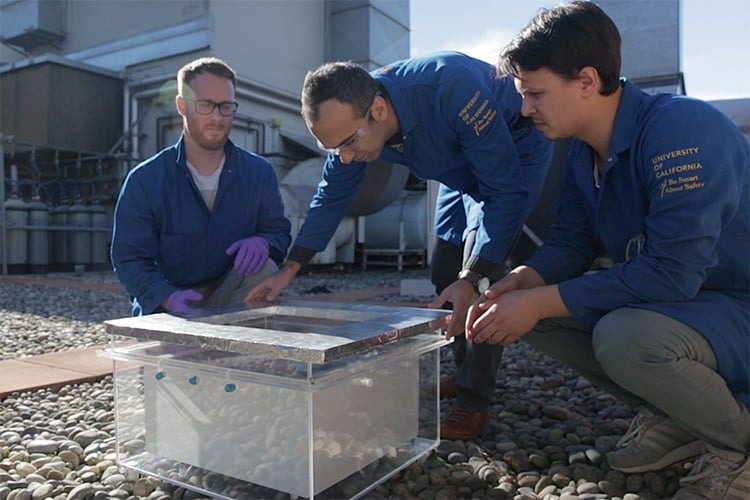 The MOF is inside the interior box, and the foil-wrapped top is designed to keep the outer box cool enough to condense the water vapor driven from the MOF by sunlight. Credit: Stephen McNally