Welcome to this week's Engineering360 news brief.
Polymer-forming Technologies
Scientists at Karlsruhe Institute of Technology (KIT) in Germany have developed a new technique for industrial glass processing. By employing a simple structuring technology to treat quartz glass like a polymer,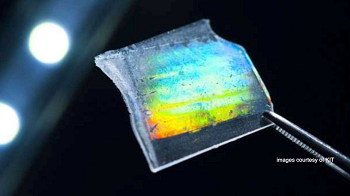 Source: KIT the method overcomes a longstanding challenge to maximize both quality and efficiency. "We start with the smallest glass particles," said Dr. Bastian E. Rapp, head of the NeptunLab interdisciplinary research group of KIT's Institute of Microstructure Technology. Those particles - just 40 nanometers in size - are then mixed with a liquid polymer, formed into a structure like a sponge cake and hardened to a solid by heating or light exposure. The polymer acts like a bonding agent, maintaining the shape and retaining the glass particles at the right locations. The resulting composite structure, known as a "Glassomer," consists of glass particles in a matrix at a ratio of 60 to 40 volume percent. It can be milled, turned, laser-machined or processed in CNC machines just like a conventional polymer.
ID People Based on Their Unique Walk
With the potential to replace other systems of identification like retinal scanners and fingerprinting at locations such as airports where people pass through security checkpoints, computer scientists have created technology that can recognize and identify people based on their style of walking. Publishing their findings in IEEE Transactions on Pattern Analysis and Machine Intelligence, the team of scientists found that their artificial intelligence-powered footstep recognition system can find patterns in a person's gait and can use that information to identify the person with near perfect accuracy. Each human has approximately 24 different factors and movements when walking, resulting in every individual person having a unique, singular walking pattern. Unfortunately, with such technology comes concerns for privacy, and whether it is practical and or possible to gather data concerning individuals' footsteps versus simply gathering photos for facial recognition. Likewise, the system requires tools such as floor pads and high-res cameras in order to work.
Plan a Virtual Trip Beyond Our Solar System
Sometimes even the most seasoned traveler needs a little help in planning vacation logistics. There are over 3,700 planets in our galaxy. Why limit expeditions to just Earth? You may want to take advantage of the new Exoplanet Exploration service offered by NASA. The website enables investigation of extraterrestrial worlds, including Kepler-70b, the hottest planet on record, or TRAPPIST-1d, and yes, even Earth, via 360-degree, interactive visualizations. Many of the exoplanets featured on the website were discovered by NASA's Kepler space telescope. All the 360-degree visualizations are viewable on desktop and mobile devices, or in virtual reality headsets that work with smartphones.
Now, remember to check out Engineering360 and Electronics360 for more news and information like this – plus engineering reference guides, product spec sheets and videos of interest.