Watch: SpaceX New Launch, U.S. Air Force has a New Partner and Car Dealers Refuse to Sell EVs
May 29, 2018
Space X New Launch
SpaceX launched two new Earth science satellites for NASA and five Iridium Next communications satellites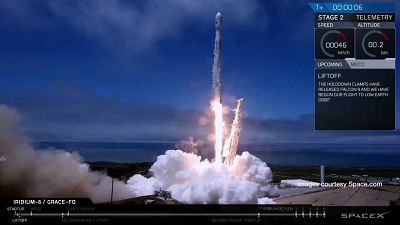 Source: Space.cominto orbit, continuing the legacy of the GRACE mission of tracking the movement of water across our planet. For the launch, SpaceX used the same Falcon 9 rocket booster that launched the classified Zuma mission for the U.S. Air Force in January. About 12 minutes after liftoff, the rocket's second stage deployed twin satellites for NASA's Gravity Recovery and Climate Experiment Follow-On mission into a near-polar orbit. The second stage then ignited its engines once more and headed to a higher orbit to drop off the five Iridium Next satellites. NASA confirmed contact with both GRACE-FO satellites shortly after launch via the McMurdo tracking station in the Antarctic.
US Air Force New Partner
The secretary of the U.S. Air Force and the director of the National Science Foundation (NSF) signed a Letter of Intent to create a new partnership. Focused on collaboration in science and engineering research, the partnership aims to bolster national security. The partnership creates a new pathway between the basic research supported by NSF and the technologies needed to support the Air Force of the future. It reflects current White House priorities, including strong national security and efficient government operations.
According to Michael Kratsios, a deputy assistant to the President for technology policy, "This partnership between two of America's R&D powerhouses will ensure that taxpayer funding of basic research is made more efficient, accelerates the development of advanced technologies for both civilian and military use, and fosters job creation and economic growth into the future."
Car Dealers Refuse to Recommend Electric Vehicles
Despite the promise that electric vehicles (EVs) will play a significant role in lowering CO2 emissions, researchers found that car dealerships — particularly those located in Denmark, Sweden, Iceland, Finland and Norway — are discouraging consumers from purchasing them, according to new research. According to the researchers, reportedly disparaged the EVs and also misled customers about vehicle details such as range and charging requirements. Noting that EVs require less maintenance due to the absence of parts such as filters and spark plugs, researchers concluded that dealers were reluctant to recommend the vehicles because of lower profit margins.
Now, remember to check out Engineering360 and Electronics360 for more news and information like this – plus engineering reference guides, product spec sheets and videos of interest.