Machine Learning Enhances Understanding of Earthquakes, Geothermal Reservoirs
S. Himmelstein | May 24, 2018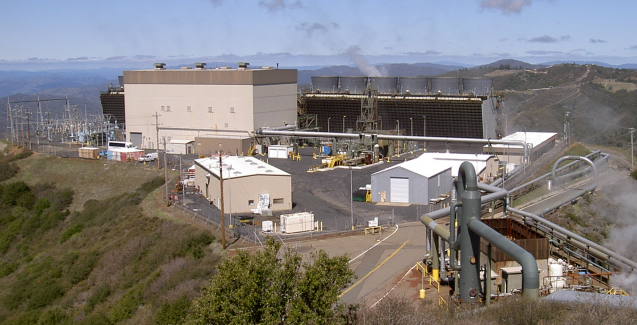 Machine learning tools revealed patterns that correspond to water-injection flows at The Geysers geothermal field, suggesting a link to the mechanical processes that produce earthquakes. Source: Stepheng3
A new approach to the interpretation and possible prediction of earthquakes is being advanced by Columbia University researchers. Machine learning technology has been applied to a catalog of 46,000 earthquake recordings, each represented as energy waves in a seismogram, from The Geysers in California. The algorithms could distinguish different types of earthquakes from three years of earthquake frequency recordings.
Mapped changes in the waves' frequency through time were plotted as a spectrogram, after which machine learning tools were applied to reduce each earthquake to a spectral fingerprint reflecting subtle differences from the other quakes. The fingerprints were sorted into groups by means of a clustering algorithm. The researchers observed that repeating patterns of earthquakes appear to match the seasonal rise and fall of water-injection flows into the hot rocks below, indicating a link to the mechanical processes that cause rocks to slip or crack, triggering an earthquake.
Comparing clusters against average monthly water-injection volumes across the site revealed a pattern. A high injection rate in winter, as cities send more run-off water to the area, was associated with more earthquakes and one type of signal. A low summertime injection rate corresponded to fewer earthquakes, and a separate signal, with transitional signals in spring and fall.
If the earthquakes in different clusters can be linked to the three mechanisms that typically generate earthquakes in a geothermal reservoir — shear fracture, thermal fracture and hydraulic cracking — it could be possible to boost geothermal power output. An improved understanding of reservoir mechanics would allow engineers to experiment with controlling water flows to create more small cracks, and thus, heated water to generate steam and eventually electricity. These methods could also help reduce the likelihood of triggering larger earthquakes at The Geysers and anywhere else fluid is pumped underground, including at fracking-fluid disposal sites.
The research is published in Science Advances.