Hotter But Lower Cost Concentrating Solar System in the Works
S. Himmelstein | May 22, 2018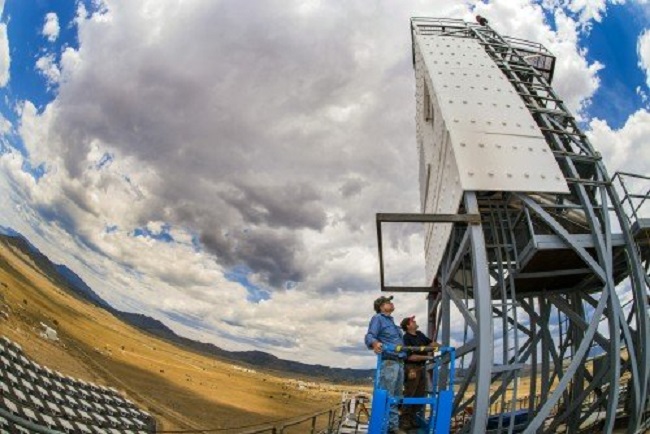 Technologists perform inspections of the falling-particle receiver during a 6cloud delay atop the National Solar Thermal Test Facility's Solar Tower at Sandia National Laboratories. Source: Randy Montoya
While available concentrating solar power systems can heat a substance to 565 degrees Celsius, researchers at U.S. Sandia National Laboratories are seeking to heat up the technology to 700 degrees Celsius to raise efficiency and lower the cost of electricity produced.
Researchers will use $10.5 million of funding from the U.S. Department of Energy (DOE) in a two-year project to advance a system that uses sand-like ceramic particles to adsorb and store solar heat. The design will expand on and integrate the team's high temperature falling particle receiver, the first to be developed worldwide.
In addition to the innovative receiver, the scheme will include six hours of storage, a 1MW heat exchanger and a particle lift to demonstrate the entire thermal system. According to the researchers, particles are the best agent for achieving higher temperatures for advanced power cycles. The materials are inexpensive, durable and non-corrosive, and can be stored directly even as they reach temperatures over 1,000 degrees Celsius.
Key components of the proposed pilot plant are to be evaluated and risks associated with falling particle and concentrating solar power technology are to be addressed in the initial project phase. Emphasis will also be given to minimizing heat and particle losses from the receiver and identifying suitable designs for particle storage and a particle-to-working-fluid heat exchanger that will work for a large-scale power plant.
A second phase will involve drawing up a proposal that details the final concept for the proposed pilot plant. DOE will also receive proposals from the two other teams and will choose one team to receive up to $25 million to construct and operate a pilot plant in the third phase of the program.