A More Precise Analysis of the Organic Fraction of Smog
S. Himmelstein | May 22, 2018
Researchers in Poland have developed an accurate method for the chemical analysis of secondary organic aerosol (SOA) — an important yet not fully characterized constituent of atmospheric particulates. The method is easily adaptable in many laboratory settings and not only determines the chemical composition of compounds,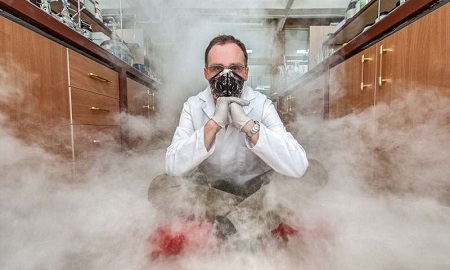 The analytical technique developed by the Warsaw-based scientists is a method of finding out about the finest details of the chemical structure of smog molecules. Source: IPC PAS, Grzegorz Krzyzewski but also recognizes changes in the spatial distribution of atoms in molecules.
The chemical properties of molecules, especially organic ones, are determined not only by their chemical composition itself, but also by the spatial structure of the molecules. SOAs are characterized by a richness of chemical compounds, many of them occurring in isomeric forms — i.e., differing in the distribution of atoms in the molecule, and consequently also in their chemical properties. The detection of these isomers used to be the weak point of modern analytical techniques.
The organic fractions of these compounds are strongly hydrophilic and occur as minute quantities in samples. They are difficult to separate or analyze with conventional techniques and resist detailed identification of molecular structure, including differentiation of positional and/or stereo isomers.
The new analytical method combines the benefits of ultra-high performance liquid chromatography and high-resolution tandem mass spectrometry. The approach improves the separation efficiency and detection sensitivity of these compounds in aerosol matrices. The selection of the proper solvent for SOA extracts was a key factor in improving the separation parameters. The smog particle analysis protocol has been demonstrated to be accurate as well as fully reproducible.
Researchers from the Institute of Physical Chemistry of the Polish Academy of Sciences (IPC PAS), the Institute of Organic Chemistry of the PAS and the Institute of Environmental Protection of the National Research Institute contributed to this study.