The U.S. Commerce Department's National Institute of Standards and Technology (NIST) says it will study the impacts of Hurricane Maria's September 2017 strike on Puerto Rico.
It will focus specifically on the performance of critical buildings and their dependence on distributed infrastructure such as electricity and water, as well as emergency communications and the public's response to those communications.

Under the National Construction Safety Team (NCST) Act, signed into law in 2002, NIST is authorized to establish teams to investigate building failures that have resulted in substantial loss of life or that posed the potential for substantial loss of life.
The lessons learned as a result of this investigation will be used to help improve codes, standards, and practices in order to strengthen buildings and infrastructure, and reduce property losses from future storms in hurricane-prone areas.
(Read "Puerto Rico Faces a Decade of Recovery, Experts Say.")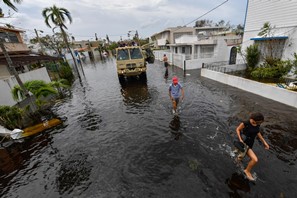 Officials inspect flooding damage in the days after Hurricane Maria struck Puerto Rico. Credit: NYPAHurricane Maria made landfall in southeast Puerto Rico near the town of Yabucoa at approximately 6:15 a.m. Atlantic Standard Time on Sept. 20, 2017. Maria was listed as a strong Category 4 storm, with maximum sustained winds of 249 kilometers per hour (155 miles per hour).
The storm tracked across the center of the island, from southeast to northwest, and produced up to 2.7 meters (8.9 feet) of storm surge. The hurricane also dumped greater than 25 centimeters (9.8 inches) of rain over much of the island, with even higher amounts (50-101 centimeters, or 20-40 inches) in some areas, causing hundreds of landslides across the island.
NIST says that preliminary observations identified "minimal structural damage" caused by wind hazards to reinforced-concrete and concrete-block buildings with concrete roofs. However, an NIST team observed:
Some roof failures on reinforced-concrete and concrete-block buildings having other-than-concrete roofs (wood frame and steel frame)
Wind damage to metal building systems
Wind-induced failures of metal buildings and rooftop equipment, potentially due to corrosion
Varied performance of rooftop solar areas exposed to high winds
Initial discussions identified the following regarding electric power:
Complete electrical outage across Puerto Rico
Severe physical damage to electric power generation, transmission and distribution systems, including utility-scale solar and wind power generation
Cascading effects affecting water, wastewater, communications.
(Read "Here's How to Make the Power Grid More Resilient.")
Work crews spent months repairing the island's electric power grid, which was damaged by the storm.Regarding the communications system, the NIST team says there was a near complete loss of digital communications across the island, severe physical damage to tower and building-mounted cellular communications equipment, damage to "hundreds of miles" of fiber optic cable impacting wireless and wireline communications and some cell tower collapses.
Based on a preliminary reconnaissance to Puerto Rico in December 2017, the NCST will work to determine:
The characteristics of the storm hazards -- the pattern, location and cause of injuries and fatalities
The performance of emergency communications systems and the public's response to such communications
The performance of representative critical buildings and designated safe areas in those buildings, including their dependence on infrastructure such as electricity and water.
Previous NIST investigations conducted under the NCST authority include the investigation of the 9/11 World Trade Center attack; the 2011 Joplin, Missouri tornado; and the 2003 Station Nightclub fire in West Warwick, Rhode Island.
This marks the first time NIST will conduct a full NCST investigation in the aftermath of a major hurricane.