NASA and Uber Team Up to Explore Safety of Future Urban Airspace
Ken Thayer | May 14, 2018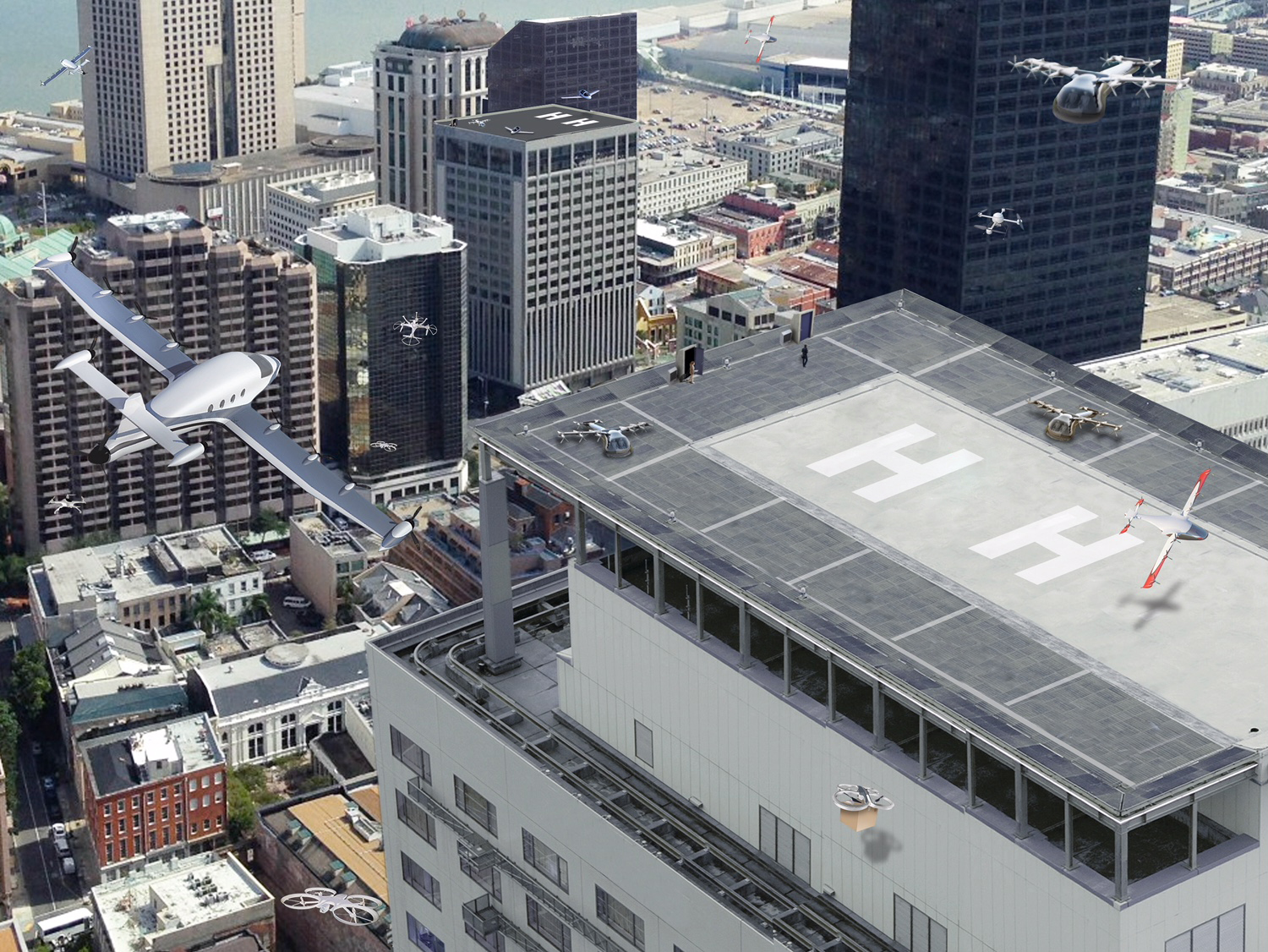 Small vertical take-off and landing vehicles in an urban environment. Source: NASANASA and Uber Technologies, Inc. have entered into an agreement to investigate concepts related to safety in populated areas for urban air mobility (UAM) technologies.
NASA defines "urban air mobility" as a safe and efficient system for vehicles, piloted or not, to move passengers and cargo within a city.
The agency will use their advanced airspace management computer modeling and simulation software and apply it to Uber's plans for an urban rideshare (air taxi) network to assess the impacts of small aircraft of vertical take-off and landing in these populated areas. This is new territory for NASA and will be their first time specifically modeling UAM operations.
According to NASA, urban mobility could be a fundamental lifestyle change akin to smartphones.
Data supplied by Uber will be used by NASA at its research facility located near the busy Dallas/Fort Worth (DFW) International Airport to simulate the impact of small passenger-carrying aircraft during peak scheduled air traffic. This simulation and analysis will help locate safety issues that would arise under these circumstances.
At its DFW research facility, NASA will use the data supplied by Uber to simulate a small as it flies through DFW airspace during peak scheduled air traffic. Analysis of these simulations will identify safety issues as these new aircraft (including drones and passenger vehicles) take to the air in an already crowded air traffic control system.
NASA's goal is to ensure that small aircraft entering the marketplace in urban environments are done safely, within acceptable noise limits and without becoming a burden on the existing traffic control systems. The space agency is leveraging existing research in unmanned aircraft system (UAS) traffic management at low altitude; UAS integration in the National Airspace System; all-electric, general aviation class aircraft development; vertical take-off and landing aircraft; system-wide safety and more.
For the original press release, visit the NASA website.