Liquid crystal displays (LCDs) are found in most modern TVs and computers. They provide a clear view of whatever you're watching or surfing on the internet. While LCDs are awesome, there are a still some downfalls to the technology: the screen is not viewable at certain angles, for example. This is not ideal for a group that is all watching the same TV in different areas in a room. A team of researchers from Russia, France and Germany at MIPT's Laboratory of Functional Organic and Hybrid Materials have tackled this problem and found an inexpensive and simple solution.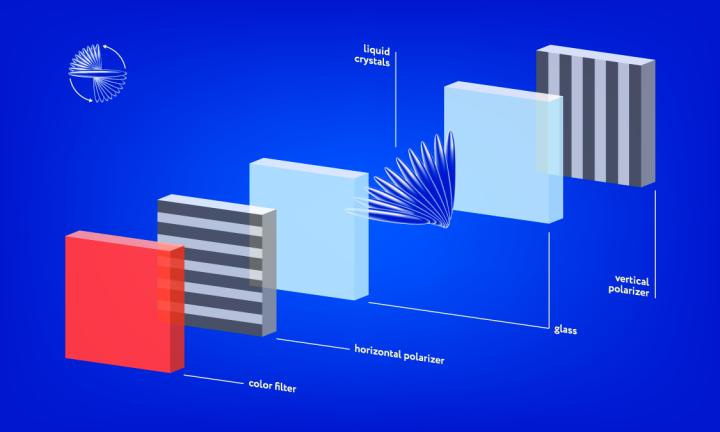 Subpixel structure in a twisted nematic LCD. Source: Lion_on_helium/MIPT Press Office
The researchers created a new method that orients LCDs so viewers are able to sit anywhere in a room and be able to see the screen perfectly. In order to understand how to fix the common viewing problem, researchers first need to understand liquid crystals. Liquid crystalline materials come in many different forms. These forms include anisometric (rod or dish-shaped) or thermotropic, meaning they become liquid crystals at a certain temperature, and lyotropic, so they become liquid crystal when the materials are mixed with a solvent. Liquid crystalline must have a certain molecular order to flow freely, but they also must be an ordered liquid.
LCDs create images by changing the intensity of light in all of its pixels using an electric field. Typically, the common LCD configuration is a twisted nematic LCD. These liquid crystals are rod-shaped and thermotropic with an adapted twist configuration and special aligning substrates. When an electric field is added to these LCDs, they twist to control the light intensity of the image that it is displaying. There are three main colors in an LCD — red, green and blue. Almost limitless combinations of these three colors allow for all possible colors to be displayed.
After understanding LCDs, the researchers were then able to start to work on solving the limitations of liquid crystals. The main problem they wanted to solve was the limited viewing angles. LCDs don't show color when viewed from the side. The researchers believed that using multi-domain displays that have different LC orientations is the fix to this problem. But before they could confirm that this was the fix, they had to test it.
The team worked with LC polymers that have a slight variation in the polymer structure. This variation alters the orientation of some of the LCs, allowing for all angles of viewing. The team used polydi-n-alkylsiloxanes, or PDAS, in their research. The polymers from PDAS were applied to a PTFE-rubbed surface that has the same regular pattern groove as a typical LCD display. By adding one methylene group to the side chain of the LC polymer, it allowed LCD displayed to be viewed perfectly, with full color, at any angle. This approach is cheaper and simpler than other approaches that have been developed in the past.
The paper on the LCD development research was published in ACS Macro Left.