Watch: NASA is Sending a Helicopter to Mars
S. Himmelstein | May 13, 2018
NASA plans to include a small, autonomous helicopter in the agency's upcoming Mars 2020 rover mission. The Mars Helicopter will undergo a 30-day test campaign once it reaches its destination to demonstrate the viability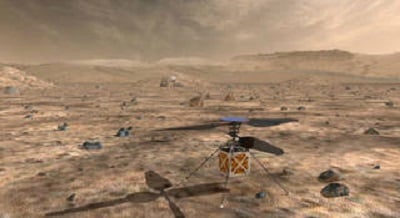 The Mars Helicopter, a small, autonomous rotorcraft, will travel with the agency's Mars 2020 rover, currently scheduled to launch in July 2020, to demonstrate the viability and potential of heavier-than-air vehicles on the red planet. Source: NASA/JPL-Caltechof flight above the Martian surface with a heavier-than-air craft.
The result of four years of design and testing at NASA's Jet Propulsion Laboratory, the craft weighs in at a little under four pounds (1.8 kg). The softball-sized fuselage sports twin, counter-rotating blades engineered to operate in the thin Martian atmosphere at almost 3,000 rpm — about 10 times the rate of a helicopter on Earth. Solar cells will charge its lithium-ion batteries and a heating system will protect the helicopter on cold Martian nights.
The rover will deposit the Marscopter on the surface after which its batteries will charge and Earth-bound controllers oversee its first autonomous flight involving a 10 ft (3 m) vertical climb, where it will hover for about 30 seconds. A successful mission will show that helicopters may have a real future as low-flying scouts and aerial vehicles to access locations not reachable by ground travel.
Mars 2020 is scheduled to launch in July 2020 on a United Launch Alliance Atlas V rocket from Space Launch Complex 41 at Cape Canaveral Air Force Station in Florida, and is expected to reach Mars in February 2021.