A British aerospace firm is developing an innovative rocket engine that could someday enable space planes to travel to and from orbit on a daily or hourly basis. The engine, designed by Reaction Engines Limited, can operate efficiently from a standing start at sea level all the way to Mach 25, or 25 times the speed of sound, 90 km (56 miles) up before returning to the runway to land.
The hypersonic Synergetic Air-Breathing Rocket Engine (SABRE) combines elements of a precooled jet engine and a closed cycle rocket engine, harnessing the advantages of each of those technologies to deliver single-stage-to-orbit space access. Instead of the multiple heavy propulsion stages of conventional space rocket launch systems, one piece of equipment handles every stage of flight, operating efficiently in the thick air of sea level, the rarefied atmosphere of high altitude and the vacuum of space.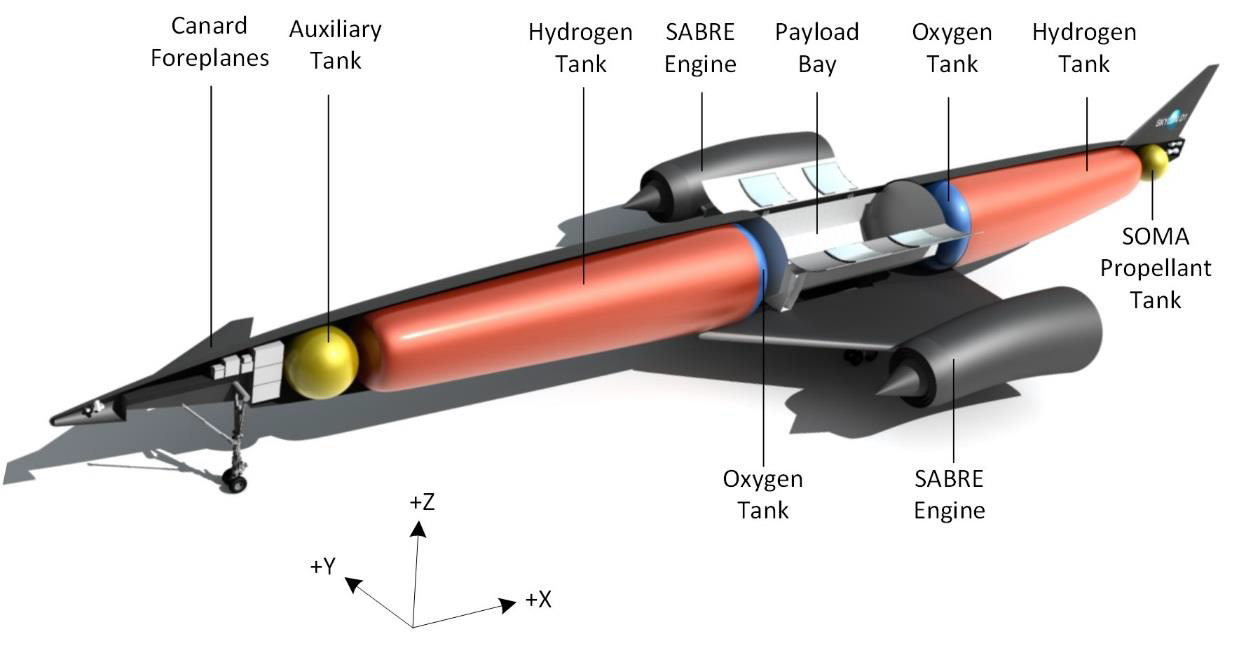 Reaction Engines' SKYLON concept orbital reusable spaceplane powered by two SABRE engines would take off from an extended runway, deliver a payload to Low Earth Orbit and glide back to Earth for a runway landing. Source: Reaction Engines
In the atmosphere, the engine's air-breathing mode enables hypersonic flight at over five times the speed of sound, outperforming conventional jet engines' maximum speed of Mach 3. SABRE could carry a commuter plane from Brussels to Sydney in just over 4 hours, a trip that currently takes over 21 hours.
The engine also has an advantage over traditional scramjets, which require a secondary propulsion method, such as an extra boost engine, to reach high-velocities in excess of Mach 5 for self-sustained flight.
Unlike traditional rocket engines, onboard oxidizer isn't needed during low-altitude flight. Instead, SABRE uses air captured from the atmosphere as oxidizer in its air-breathing jet engine mode. Only at high altitudes, when SABRE switches to rocket mode, is oxygen consumed from tanks on the vehicle. The weight savings enabled by this design innovation could revolutionize access to space, making possible reusable single-stage launch vehicles with improved fuel efficiency and more room for payload.
Rapid Heat Exchange
According to Reaction Engines, SABRE has three crucial elements: the pre-cooler, engine core and thrust chamber. Perhaps the most critical piece of equipment is the pre-cooler, which prevents overheating of engine components and cools incoming air to cryogenic temperatures to enable very-high-pressure-ratio engine operation.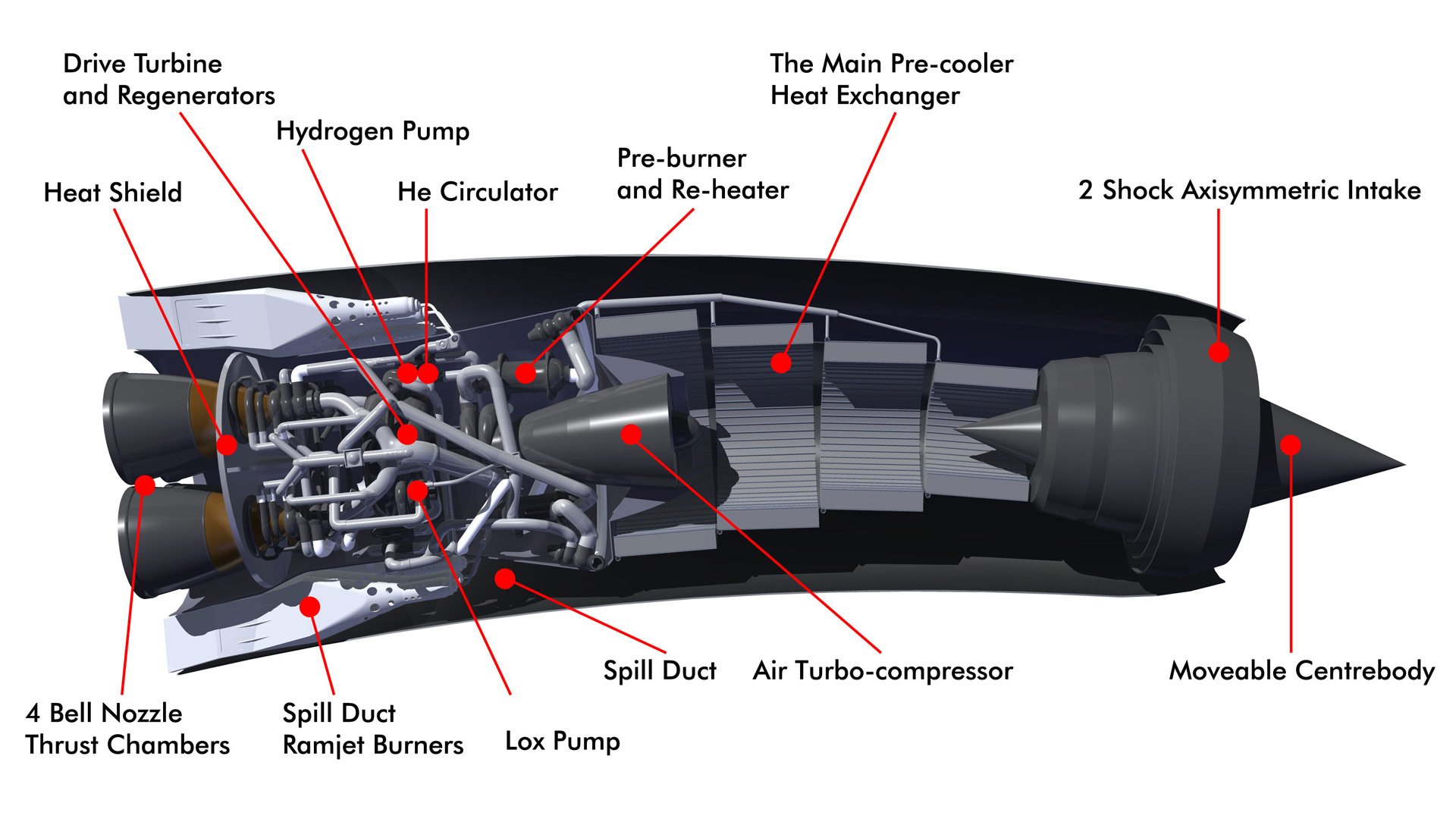 Cutaway diagram showing the internal component layout of a SABRE engine. Source: Reaction Engines
At hypersonic speeds, air entering the engine's intake is decelerated via a shock system. The slowing air sheds its kinetic energy as heat, raising temperatures to around 1,000° C (1800° F) at Mach 5. To cool the air before it enters the compressor, a portion of it is directed radially inward through the pre-cooler apparatus. The excess passes through a spill duct containing ramjet burners to negate some of the associated drag losses.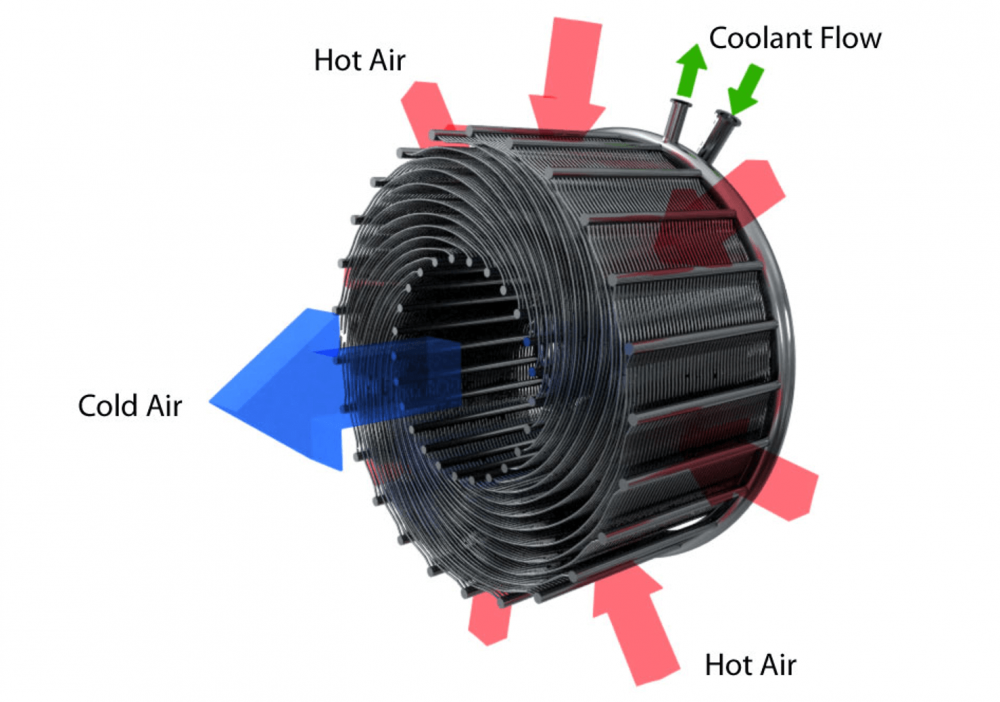 Helium coolant flowing through the pre-cooler absorbs heat from the hot intake air, rapidly cooling it before it enters the compressor. Source: Reaction Engines
The pre-cooler consists of thousands of tubes assembled in involute spirals flowing with helium coolant. With small diameters and thin walls, the tubes maximize heat transfer surface area while minimizing weight. Cool helium travels outward through the spirals, meeting hot air from the intake flowing inward around the tubes. By the time the air has reached the center of the pre-cooler, its temperature has dropped from 1000° C (1800° F) to -150° C (-238° F) in less than 1/20th of a second.
Meanwhile, the high-temperature helium produced by the pre-cooler is put to use driving a contra-rotating turbine. This uniquely designed turbine contains no stators. Each row of blades rotates in opposing directions, extracting energy from the hot helium to drive a compressor that generates high-pressure air for the combustion chamber. The helium is further cooled by using its heat to power the fuel delivery pumps and vaporize hydrogen to be burned together with the supercooled oxidizer for high thrust.
Above speeds of Mach 5.5, SABRE switches to rocket mode, closing off the air intake and burning stored oxygen and hydrogen to provide the high thrust required to power the plane to sub-orbital flight.
At the tail end of the SABRE engine, a variable geometry rocket nozzle accommodates changes in air pressure to operate efficiently from sea level to space.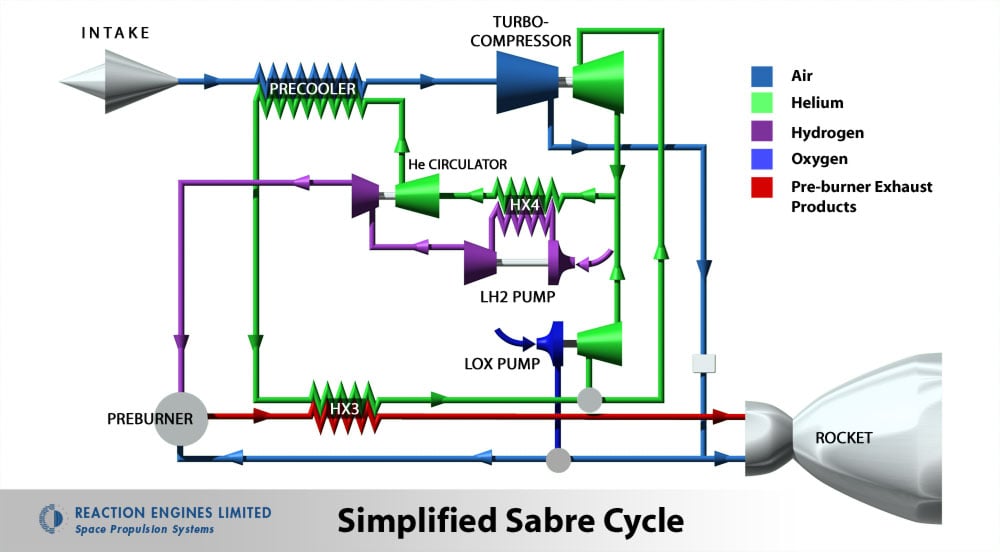 A simplified diagram of SABRE's engine cycle. Source: Reaction Engines
Making SABRE a Reality
Reaction Engines has a long history advancing the technology that will make SABRE a reality. The company was founded in 1989 following the cancellation of the Horizontal Take-Off and Landing (HOTOL) project that started development of the RB545 liquid air cycle (LACE) engine that could power a spaceplane from the runway to space. Three propulsion engineers who had worked on the RB545 at Rolls-Royce saw the potential of the engine and broke off on their own to bring the concept to fruition.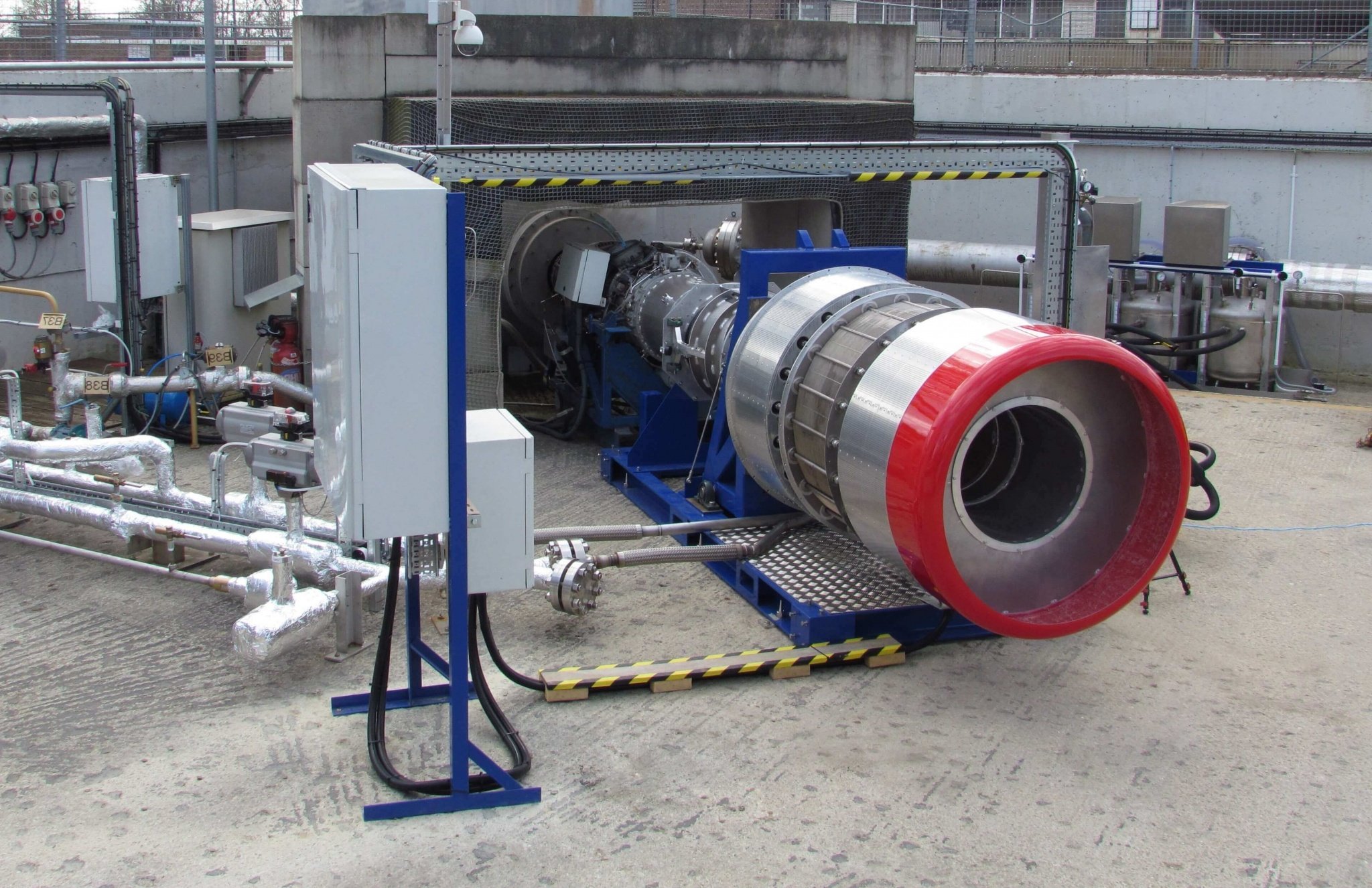 Reaction Engines' demonstration pre-cooler heat exchanger on the test stand. Source: Reaction Engines
Reaction Engines' unique engine design has always attracted attention for its potential to revolutionize space access, but it was not until recent real-world progress demonstrating successful tests of critical components like the pre-cooler that major investors started to take notice. By 2012, the company had completed initial validation testing of its pre-cooler concept at ambient temperatures, verifying its operational performance and robust reusability.
In November 2015, BAE Systems bought a twenty percent stake in the company for £20.6 million. That was followed by a £10 million contract with the European Space Agency in July 2016, along with £50 million in grants from the UK Space Agency. And in April 2018, Reaction Engines received £26.5 million in investments from Boeing HorizonX Ventures and Rolls-Royce.
Reaction Engines is taking a ground-based development and testing approach to save time and money before flight testing. The company carried out live-fire tests of SABRE's chamber and nozzle configuration in 2015. Its heat exchanger technology will be put to the test in high-temperature airflow experiments in excess of 1000° C (1800° F) in 2018 thanks to a contract from the U.S. Defense Advanced Research Projects Agency (DARPA). Reaction Engines aims to test the first integrated SABRE engine core in 2020 at a new facility in construction in Westcott, Buckinghamshire, U.K.
A successful demonstrator will pave the way to field applications for this ground-breaking engine design, potentially resulting in significantly lower costs to reach space as well as extremely fast long range commutes.