Has your hand ever cramped up from signing your name too many times? If so, the 18th-century Swiss watchmaker Jaquet Droz has a solution for you that will only set you back $367,500. After four years in development, the Jaquet Droz Signing Machine is ready to ship as part of the company's 280th-anniversary celebration. With such a high selling price, collectors are the target audience for the mechanical marvel.
Keeping with the company's tradition of fine watchmaking, the mechanically operated Signing Machine is an intricate and elegant instrument. The gadget uses a series of miniature gears and springs to move a pen and generate a signature. In total, 585 parts have been assembled and finished by hand. A winding mechanism allows two full signatures to be written before rewinding is required. Since its first introduction in 2014, the mechanism has been refined to produce a more fluid movement. The signature is manually "programmed" via a mechanical coding of its imprint over three cams, creating a unique and personal result. A four-digit code selected by the user is required to activate the machine.
The Signing Machine is finished with hand-engraved red, gold or blackened hardwood. It is intended to be portable and is furnished with a leather pouch.
The Signing Machine continues the Jaquet Droz legacy of creating unique mechanical devices that mimic human motion. These automata include The Writer, The Musician and The Draughtsman, created between 1768 and 1774 by Pierre Jaquet-Droz, his son Henri-Louis and Jean-Frédéric Leschot.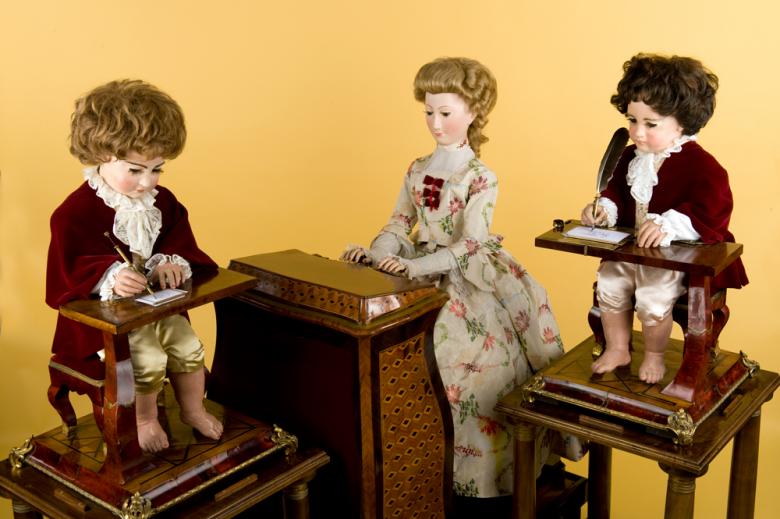 The Draughtsman, The Musician and The Writer Automata; Source: Neuchâtel Museum of Art and History
The Writer is a mechanical boy who writes with a quill pen and contains over 6,000 pieces. It can write any custom text up to 40 letters long. His head moves when he gets more ink on the pen, he shakes the pen to rid it of excess ink, and his eyes move to follow the pen as he writes. (video of The Writer)
Modeled as a female organ player, The Musician is constructed of over 2,500 pieces. The doll actually creates music by pressing the keys with her fingers on a real instrument. (video of The Musician)
Fashioned as a young child, The Draughtsman uses a system of cams and 2,000 pieces to draw four different images: a portrait of Louis XV, a royal couple (Louis XVI and Marie Antoinette), a dog with the words "Mon toutou" ("my doggy") written next to it, and a picture of Cupid driving a chariot that is pulled by a butterfly. (video of The Draughtsman)
Designed and built by the company's founder, Pierre Jaquet-Droz, between 1768-1774, these three automata can be seen at the Neuchâtel Museum of Art and History in Neuchâtel, Switzerland.
Read the full press release from Jaquet Droz.
Or, watch the Jaquet Droz corporate movie.