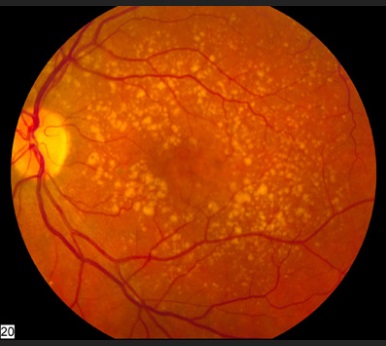 Age-related macular degeneration. Source: National Eye Institute
Macular degeneration is a form of non-corrective vision impairment caused by loss of retinal pigment epithelium (RPE). It is a common disease that leads to blindness, and, whereas there are no known treatments that stop or reverse the process, a new bio-engineered implant looks to do just that.
Clinical trials are underway for four patients suffering from advanced non-neovascular age-related macular degeneration (NNAMD) who successfully received bio-engineered implants. Researchers from the University of Southern California along with several other institutions published their findings in the Science Translational Medicine Journal.
The implant, termed the California Project to Cure Blindness–Retinal Pigment Epithelium 1 (CPCB-RPE1), is composed of human embryonic stem cell (hESC) derived RPE that is grown on a synthetic substrate. The introduction of the implant looks to replace lost RPE and delay progressive vision loss or, ideally, restore vision.
Without RPE, overlying photoreceptors are known to degenerate, and all four patients who were treated have shown no further signs of progressive vision loss while one patient is showing signs of restored vision.