The U.S. Food and Drug Administration (FDA) has granted IDx a De Novo request to market IDx-DR, an artificial intelligence (AI)-based diagnostic system for the autonomous detection of diabetic retinopathy, a leading cause of blindness.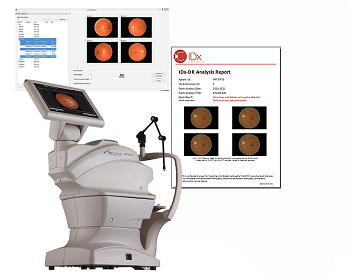 Source: IDxIDx-DR is the first autonomous, AI-based diagnostic system authorized for commercialization by the FDA.
More than 30 million Americans have diabetes, and an estimated 24,000 lose vision each year from diabetic retinopathy, a complication of diabetes. If diabetic retinopathy is caught in its early stages, vision loss and blindness are almost entirely preventable. In announcing its decision, the FDA permits the marketing of a novel AI technology that can be used in a primary care doctor's office for timely screening.
IDx-DR can be used to provide an immediate, reliable assessment for diabetic retinopathy, including macular edema, during a routine office visit in a primary care setting. The exam is performed on site in minutes and produces a diagnostic interpretation and associated report, including care instructions that are aligned with the American Academy of Ophthalmology preferred practice pattern for diabetic retinopathy. This enables primary care providers to counsel patients regarding follow-up care while they are still in the office.
As an autonomous, AI-based system, IDx-DR makes an assessment without the need for a clinician to also interpret the image or results, making it usable by health care providers who may not normally be involved in eye care.