The world's strongest X-ray source was tapped to conduct spray imaging inside a gas turbine combustor as relevant to the U.S. Army. The research was performed by scientists from U.S. Army Research Laboratory's Center for Unmanned Aircraft Systems Propulsion and University of Illinois at Urbana-Champaign at the U.S. Department of Energy's Advanced Photon Source at Argonne National Laboratory in Illinois.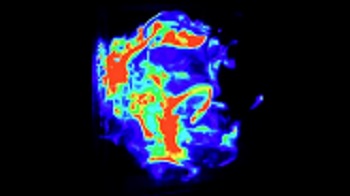 Inside a gas turbine engine's combustor, scientists use the world's strongest X-ray source at the Advanced Photon Source at Argonne National Laboratory to peer inside formally unseen processes. Source: U.S. Army/David McNally
The experiments mimicked what happens inside a typical Army helicopter gas turbine engine and are expected to advance gas turbine engine designs for higher power density and efficiency. The data will be used to define the initial conditions for numerical simulations that will further understanding of gas turbine combustors.
A combustor inside these turbines is fed high pressure air that is heated by constant pressure. After heating, the air passes from the combustor through the nozzle guide vanes to the turbine, producing thrust. Combustors play a crucial role in determining many of an engine's operating characteristics, such as power density, fuel efficiency and emissions.
The X-ray source was used to image the spray breakup at the very tip of the injector and to assess how the ligaments, or strands of burning fuel, break up into small droplets. One goal is to understand exactly what occurs inside the gas turbine combustor to predict how it responds to different operating conditions.