Metallic mineral-bearing ores, like porphyry ore deposits — the primary source of refined copper, are produced by one of several geologic processes, including fractional crystallization of oxidized basaltic magma chambers or more commonly intrusive veins that are deposited through hydrothermal vents. Common copper-bearing minerals within these ore deposits include malachite, azurite, cuprite and chrysocolla, and while these copper minerals contain significant amounts of copper, a series of physical and chemical reactions are required to refine the ore and produce an industrial grade metal.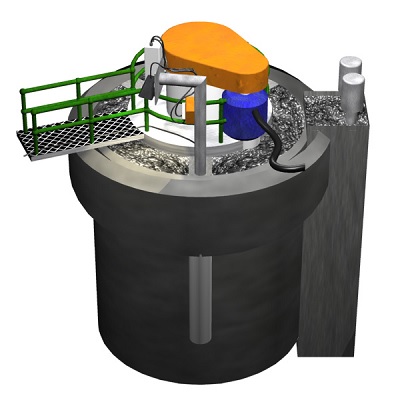 A 3D render of a froth flotation cell. Source: Dhatfield/CC BY-SA 3.0Froth Flotation
Copper mineral ore deposits contain roughly 2 percent copper. To harvest a valuable commodity, a physical process known as froth floatation is used to concentrate the ore.
The first step is to crush or grind the ore and treat it with a hydrophobic binding agent, such as pine oil or a treated paraffin oil. The water repellant mineral particles are floated in a bubble bath and collected by the surface tension of the foaming agent, creating a froth of copper concentrate. The froth is skimmed off the surface while the hydrophilic waste rock falls to the bottom of the tank.
Froth flotation allows mining operations to produce copper from lower grade ores. In an era of depleting ore grades where fewer new mines are being brought online for production, ores with as little as 0.5 percent copper are now considered a viable resource.
The copper concentrate produced from froth floatation is approximately 25 percent copper by mass. It is further refined through a series of roasting, smelting and other redox reactions until a copper blister is produced that can be further refined to an industrial grade metal through electrolysis.
Froth flotation is considered one of the most fundamental separation techniques and while it is essential in copper production, it is also the same method used to concentrate a range of other metals including iron and precious metals.
Flotation Reagents
In many cases mines extract mineral ores that contain multiple metals. This can be both valuable and troublesome depending on the minerals presents and how each constituent affects the separation process.
In cases with elevated concentrations of iron sulfides or precious metals are present, such as platinum group metals or gold, special care needs to be given to both the process and the additives used. Iron sulfides, when present, typically exist at elevated concentrations. It can be difficult to liberate powdered copper sulfides from the accompanying iron sulfides, which can result in a diluted copper concentrate. It is also equally important to not to reject precious metals as that can negatively impact the economics of the separation process.
Cheminova's Danafloat™ flotation reagents are formulated to address a wide range of mineral ores. They are engineered for selective separation of a wide range of sulfides and oxides and are used to produce a high-quality mineral concentrate with special emphasis on added value.
Their range of flotation reagents includes both acidic and aqueous dithiophosphate solutions. They are formulated for compatibility with a wide range of bath solutions. Whether your process incorporates elevated concentrations of lime to depress iron sulfides or if soda ash or caustic soda is used to control flotation selectivity, their dithiophosphate mixtures are tailored for the intended application and help optimize the value stream in the mining industry.
Resources: