An international team of researchers developed and tested a technique to estimate carbon dioxide emissions from fossil fuels using atmospheric measurements, tested over three months in California. Data collected over a three-month period were compared to reported emissions, marking the first time fossil fuel emissions have been independently checked for such a large area.
A close match was observed for the reported and actual emissions, but the researchers caution this may not be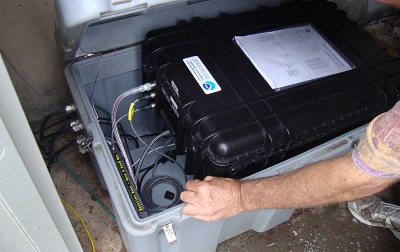 One of the measurement kits. Source: Imperial College Londonthe case everywhere else in the world.
Fossil fuels lack a type of radioactive carbon — the carbon-14 isotope — which decays over time. By measuring the ratio of carbon isotopes in the samples the team collected, they were able to tell how much carbon was from fossil fuel combustion. The collected data were combined with a California-specific atmospheric circulation model, which shows how air moves around the state. Model results were then compared with other estimates of fossil fuel emissions, including those from the California Air Resources Board
California's estimates are based on calculating what has been burnt and this study provided a way to check that their reported emissions are unlikely to have any large biases.
The researchers say that adding this atmospheric monitoring technique to the suite of tools used to monitor climate change can help to better understand greenhouse gas emissions from specific regions and how they are changing over time.
Researchers from Imperial College London, U.S. Lawrence Berkeley National Laboratory, Scripps Institution of Oceanography, U.S. Sandia National Laboratory, U.S. Lawrence Livermore National Laboratory, Earth Networks, California Institute of Technology, Arizona State University, University of Colorado Boulder, University of California San Diego, U.S. National Oceanic and Atmospheric Administration and Jet Propulsion Laboratory participated in this study, which is published in Environmental Research Letters.