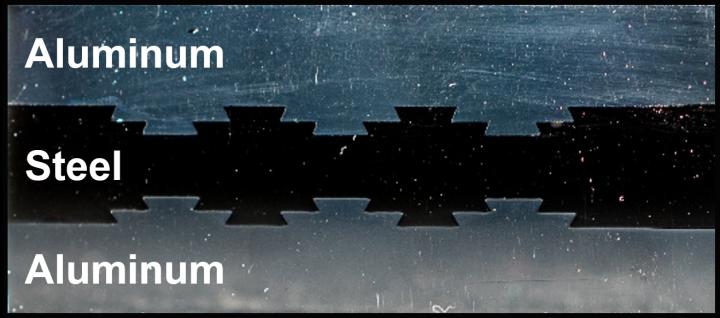 Lab testing of joints made by friction stir dovetailing. Source: PNNL
A new process called "friction stir dovetailing" has the ability to join thick plates of aluminum to steel. This new process comes from a research team at Pacific Northwest National Laboratory. The process will create lighter-weight military vehicles, making them more agile and fuel efficient.
The military spends billions on fuel for military vehicles every year. This is bad for the environment, as well as the military spending budget. One way to lessen the burden of fuel costs is to create lighter ships, planes, vehicles and cargo.
The U.S. Army Automotive Research Development and Engineering Center (TARDEC) started a campaign in 2014 that looked for ways to make combat vehicles lighter. One method said that replacing some of the heavy steel components with aluminum would make the methods lighter because aluminum is lighter than steel. The only problem with this method is that steel and aluminum cannot be welded to each other because they have very different melting temperatures. Suddenly the focus shifted from finding a way to make vehicles lighter.
The solution was found when TARDEC teamed up with PNNL. Together, they created friction stir dovetailing. In this method, aluminum is deformed into a steel dovetail groove, which forms a mechanical interlock. A tool on the bottom of the dovetail forms a thin metallurgical bond that makes the metals stay together.
"The combination of mechanical interlocking and metallurgical bonding formed during a single process is the innovation that produces joints of superior strength and ductility compared to joints created by the other friction stir methods," said PNNL engineer Scott Whalen, who leads the research.
The team found that using complex machine controls to keep the temperature even combined with the pressure at the surface stopped intermetallic compounds from developing. The compounds are problems because they grow thick and randomly when other techniques are used and it causes the metals to be brittle and then break apart. But during friction stir dovetailing, the thinness of the joints sticks the metals together without causing the metals to break.
"Intermetallic compounds will form between aluminum and steel during all friction stir techniques as part of the heating process," said Whalen. "We discovered that Friction Stir Dovetailing inhibits intermetallic compound overgrowth because temperature and pressure are much lower than other friction stir approaches."
When this method is used, the aluminum/steel combo is five times more pliable than just steel, along with being a lot lighter.
The next step for the team is to perfect the technique and further expand the method for other applications.
The paper on this research was published in Scripta Materialia.