New Wireless Sensors Could Gather Health Data of Bedridden Patients
Marie Donlon | April 10, 2018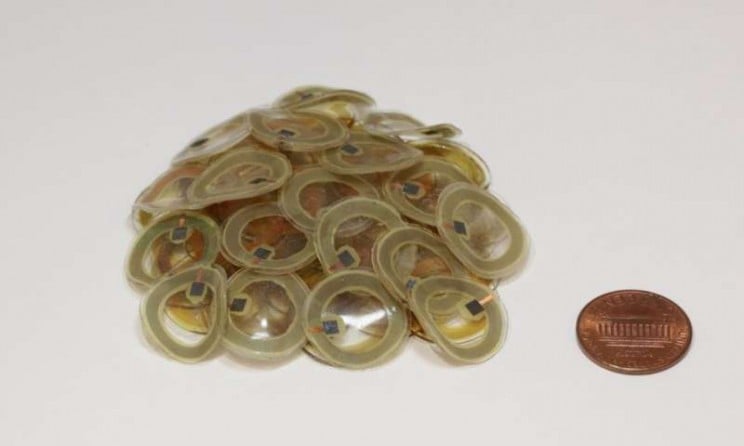 An image of the wireless sensors that were used for sleep experiments. Source: Seungyong Han and Sang Min WonHealthcare professionals may soon be able to better monitor patients that have been confined to their beds as the result of illness or injury thanks to small skin-like sensors that can be affixed to patients, collecting health data such as temperature and blood pressure.
Developed by an international team of researchers, the sensors can gather patient data and then wirelessly send that data to health-care staff, informing them of any changes in their patient's health, like increased fever that might signal an infection.
Working as part of a set, the thin, flexible sensors can easily attach to various parts of the body, and, depending on the size of the patient, up to 65 sensors can be attached to the patient at once.
Once affixed, the sensors, which are roughly the size of a penny, collect and then send the health data to an NFC transmitting coil housed under the patient's bed. There, the coil then relays that data to a computer that monitors the data and alerts health-care providers of the patient's status.
So far, the sensors have been measured against conventional methods of patient monitoring and they are reportedly more effective. However, the research team will participate in a larger clinical trial of the sensors in addition to developing plans for adding other capabilities to the sensors such as ways to gather data about heart and breathing rates.
For more information on the sensors, go to the journal Science Translational Medicine.