3D Printed Parts from General Electric Set for Retrofit in 400 Jet Engines
Engineering360 News Desk | April 16, 2015
GE Aviation is working with Boeing to retrofit more than 400 GE90-94B jet engines with a 3D-printed part, known as T25 that houses compressor inlet temperature sensor inside jet engine.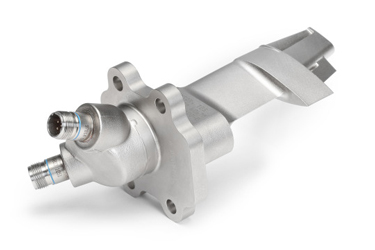 3D-printed housing for the T25 sensor. Source: GE
GE is also working on flight tests for another engine—the LEAP jet engine—which features 19 3D-printed fuel nozzles. Work is also under way to develop 3D-printed nozzles for the GE9X engine, which will be the largest jet engine ever built, for Boeing's new 777X aircraft.
"The 3D printer allowed us to rapidly prototype the part, find the best design and move it quickly to production," says Bill Millhaem, general manager for the GE90 and GE9X engine programs at GE Aviation. "We got the final design last October, started production, got it FAA (Federal Aviation Administration) certified in February" and will enter service in late April.
According to GE, the T25 3D-printed housing will protect the temperature sensor's electronics from icing and airflows inside the engine. The company says that traditional methods to create such a part would take several years to design and prototype. 3D printing on the other hand, is a breakthrough technology that saves time, environmentally friendly and weight saving.