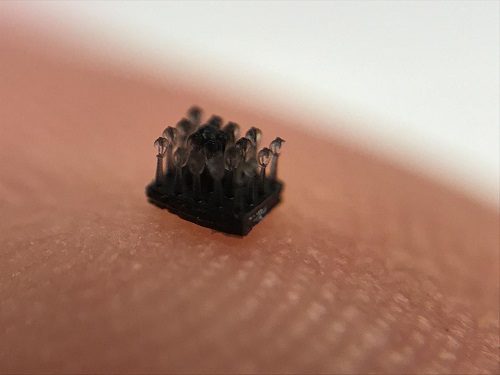 The 3D printed device used to separate oil and water. Source: USCOil spills are manmade disasters that have lingering and devastating impacts on the environment and the economy. Cleaning these oil spills has always been tricky because it is hazardous as well as time intensive.
Now a study from the University of Southern California has developed a new, more efficient way to clean oil spills that patterns nature to fabricate a material that can separate oil and water.
The material, which is made via 3D printing and mimics the Salvinia effect in leaves, is also capable of droplet-based microfluidics for use in applications such as cell cultures, chemical synthesis and DNA sequencing.
The USC research focuses on the South American fern called Salvinia molesta, a plant that is super-hydrophobic (water-fearing) and retains a surrounding air pocket when submerged in water due to the presence of water-resistant hairs.
"I think the reason the plant's surface is super-hydrophobic is because it lives on the water and requires air to survive," said Yang Yang, a postdoctoral researcher at USC on the project. "If it weren't for the long-term evolution of this plant, the plant could be submerged in water and would die."
Using a method called immersed surface accumulation 3D printing, the team was able to create the microstructure of the leaves that resembles an egg-beater. These were made from plastic and carbon nanotubes and allowed the researchers to demonstrate the fabrication of a material with both super-hydrophobic and olephilic (oil-absorbing) properties. When combined, the capillary forces are highly efficient in oil and water separation, USC says.
The researchers hope the technology can eventually be applied to manufacture materials in large scale to accommodate massive oil spills in the ocean.
In terms of microfluidics, the Salvinia effect has the potential for liquid-handling technology where the adhesion of liquid to a robotic arm can be tuned accordingly and result in non-loss transfer for very tiny amounts of liquid. The technique could be applied to devices used in chemical synthesis, nanoparticle synthesis, tissue engineering, drug discovery and drug delivery monitoring.
Another example could be used for an efficient blood analysis system where a robotic gripper could move to different stations and dispense microdroplets of blood that are then evenly mixed with different chemicals for various tests. The tests could be designed to control the ratio of chemical to droplet and result in significant conversation for source materials and chemical reagents.