Campbell's Says "Mmm, Mmm, Good" to Solar
David Wagman | March 13, 2018
Pop artist Andy Warhol may never have painted a solar array grid, but the Campbell Soup Co. - whose can Warhol made into a 20th century icon - in partnership with BNB Renewable Energy Holdings, SunPower Corp. and ORIX USA Corp. placed into service a 4.4 megawatt (MW) solar power project at the company's headquarters in New Jersey.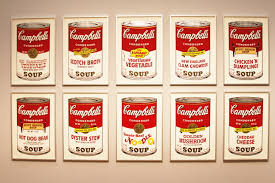 Pop artist Andy Warhol made Campbell soup cans a cultural icon. Construction on the Camden-based project began in May 2017. The project joins four existing renewable energy projects at Campbell facilities in the U.S., including a 9.8 MW solar array in Napoleon, Ohio, a 1 MW solar array in Bloomfield, Conn., and a 1.2 MW fuel cell and 1.4 MW fuel cell in Bloomfield, Conn. In total, these projects have a generating capacity to add more than 27,000 MWh of renewable energy to the grid annually.
The Camden project features rooftop, carport and ground-mount solar solutions, with 2.7 MW arrays installed across Campbell's campus. An additional 1.7 MW ground-mount array is on an adjacent 4.5-acre brownfield site that BNB bought for the project.
The entire system has the capacity to generate more than 5 million kilowatt hours of electricity per year, about 20 percent of the headquarters' annual electricity usage. Under terms of a 20-year power purchase agreement (PPA), Campbell has agreed to purchase all electricity from the array at a predetermined rate. The fixed PPA rate reportedly is below the cost of traditional electricity for the company.
The project is jointly owned by BNB and ORIX USA, a diversified financial firm. BNB is managing the project under a 20-year management services agreement with the project company, BNB Camden Solar LLC. Project debt is financed through local utility PSE&G's Solar Loan Program. The project will also feature five electric vehicle-charging stations, provided by PSE&G via its EV Workplace Charging Program.