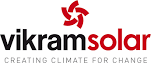 Vikram Solar, one of India's leading module manufacturers, signed a collaboration agreement with the French Alternative Energies and Atomic Energy Commission (CEA).
The association will look to enhance research and development on high efficiency crystalline silicon cells, modules, systems and high efficiency generation and storage technologies for French and Indian markets.
Under the agreement, CEA will share its know-how and technologies in the field of solar energy, storage, smart grid and thermal efficiency. Vikram Solar will apply these technologies in large-volume manufacturing with a wider objective of improving solar photovoltaic cells and modules to perform at record efficiency in energy conversion and simultaneously developing battery solutions by increasing their energy storage capacity.
Other advanced research and development areas of collaboration will include crystallization and wafering, mono and bi-facial modules, agri-photovoltaics, solar mobility, as well as exploring new competitive materials in order to reduce costs.
The CEA carries out research on thermal and photovoltaic solar energy, in support of industrial companies in the sector. In the field of solar thermal energy, the CEA has, within the National Institute of Solar Energy, an R&D platform dedicated to optimizng solar thermal systems. The CEA also carries out research on the electricity production using a thermodynamic process known as concentrating solar power technology.
In the field of photovoltaics, the CEA's research is focusing on improving the output and reducing the costs of photovoltaic modules, and also anticipating the problems of integration in the grid that will arise following a massive insertion of renewables in the energy mix.
Vikram Solar Limited specializes in efficient PV module manufacturing and engineeering procurement, and construction. Vikram Solar's annual PV module production capacity stands at 1 GW.