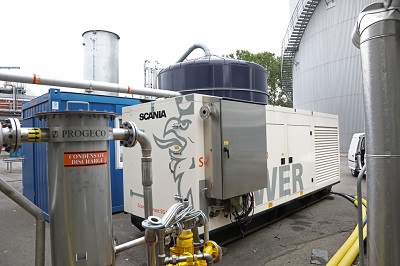 In collaboration with energy recovery specialists Tekniska verken, Scania Engines is currently testing one of its engines using raw gas. Source: Jeppe Gustafsson
Processed biogas derived from landfills and organic waste has found use as a heating and automotive fuel. To determine its utility in raw form, untreated biogas is now being tested by Scania Engines of Sweden in a 16-liter V8 designed for low-pressure compressed natural gas for power generation.
The project, launched with energy recovery specialists Tekniska verken, will collect raw biogas directly from the digestion chambers and monitor engine performance over 600 hours of tests. The unit is switchable between 1,500/1,800 rpm to produce between 333 kW and 426 kW prime power. Continuous operating power is 330 kW (50 Hz), 350 kW (60 Hz), with a gas feed pressure of 50 mbar.
If the engine can work with this raw gas, it will demonstrate a quicker and cheaper process for producing biogas for power generation, and another valuable source of alternative energy from recycled material.
Scania is also conducting research with Telge Återvinning, a waste-recycling entity owned by Södertälje council. Trials are underway to see how Scania's engines can run on simple gas extracted directly from landfill sites.
This will require collecting gas directly from the source — without refining or upgrading — by drilling holes directly into Telge's landfilled waste. Even though Tveta stopped accepting landfill materials in the 1990s, the biogas by-product from the organic waste digestion process continues to be available for up to 30 years after burial.