New Technologies Help Ensure Food That's Safe to Eat
Nancy Ordman | March 05, 2018
How does a consumer know that food – whether bought in a supermarket for home preparation or eaten in a restaurant – will not bring on a case of food poisoning? Or that the prize in a box of cereal is a toy and not a chunk of metal from a processing machine?
Consumers rely on government inspections to ensure that food products at every step from farm (or lake or ocean) to table conform to standards for food safety. Standards and regulations also govern food preparation and storage for restaurants, delicatessens, school cafeterias and other places that people eat outside their homes. Controls may include Good Agricultural Practices (GAP), Good Manufacturing Practices (GMPs), Good Hygienic Practices (GHPs), and Hazard Analysis and Critical Control Point (HACCP) systems.
Food producers, food preparers and government inspectors rely on a suite of tools to help them achieve and maintain operations that satisfy the required standards. A recent Engineering360 article discussed foreign-object detection using x-ray machines and metal detectors. This article focuses on other recent advances in food safety equipment and techniques.
Chromatography
Food manufacturers are the primary user group for contents analysis equipment. Manufacturers monitor the proportions of different food components to ensure proper flavor and nutrition and to detect the presence of unwanted substances. In addition, some foods must contain a standards-required amount of a component to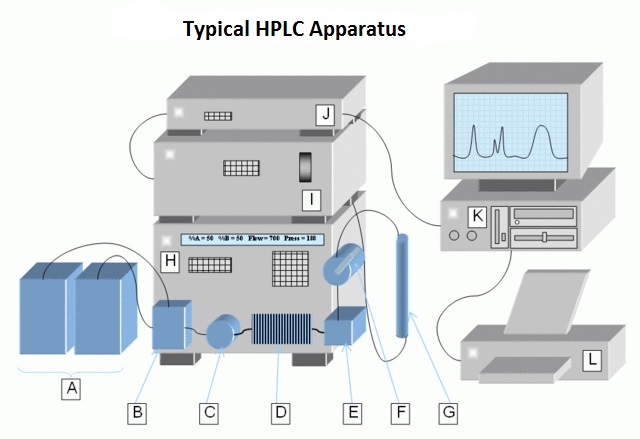 Typical structure of a simple form of HPLC apparatus Legend of the letters: A = Eluent reservoir B = Electromagnetic mixing valves with double-stroke piston pump C = 6-way valve D = Pressure compensating loop to equalize pump impulses E = Mixing chamber F = Manual injection valve G = Separation column H = HPLC unit I = detector unit (eg UV spectrometer) J = computer interface K = PC L = printer to output the results. Source: Cornelius Schumacher / CC BY-SA 2.5 be labeled as a specific product. For example, ice cream has to contain at least 10 percent milk fat.
Liquid chromatography is a standard method for qualitative and quantitative food content analysis, particularly high pressure or ultra-high pressure liquid chromatography (HPLC or UHPLC) and high-pressure ion chromatography (HPIC). Chromatography detects components like vitamin C, various food additives, contaminants and spoilage.
Proponents of combining UHPLC with mass spectroscopy (MS) and high-resolution mass spectroscopy (HRMS) cite its extreme accuracy and the depth and value of information this technique produces.
High Pressure Processing
High Pressure Processing (HPP) – also known as Pascalization or Bridgmanization – sterilizes packaged food by subjecting it to extreme pressure (50,000 PSI) at normal temperatures. The process renders microorganisms harmless by stopping chemical activity. Although the process was discovered in the 19th century, widespread use in commercial food preservation did not take off until the 1990s. Consumer demand for minimally processed food drove demand for HPP, not only because such food is preservative-free but also because the process preserves flavor and texture better than others. Not all scientists and consumers trust that food preserved by HPP is safe. That said, the U.S. Department of Agriculture has approved its use for products like cold-pressed juice.
UV-C LED Light
For over a century scientists have acknowledged the efficacy of ultraviolet (UV) light in eliminating food pathogens; food processors have used the technology for 50 years. Light eliminates pathogens through several mechanisms, including photodynamic inactivation (PDI). Different pathogens respond to exposure at different wavelengths and for different amounts of time.
UV-C, which has short wavelengths of 100 to 280 nanometers, is safe for food decontamination. In the last decade UV-C light generated by LED bulbs has entered the food sterilization scene, offering advantages over conventionally-generated UV-C. First, LEDs do not generate heat as do conventional UV sources. Since heat can adversely affect food quality, eliminating unnecessary heat is advantageous. LED bulbs use much less electricity and save money.
Electronic Noses and Electronic Tongues
Electronic noses and tongues offer potential to test food for harmful substances. These devices are essentially a collection of sensors, with individual electronic chemical sensors selected to detect specific compounds in gases (e-noses) and liquids (e-tongues). Over the past decade or two, the accuracy of both technologies has improved enough to make them useful for testing organoleptic properties of food, measuring the effects of different processing methods on food taste and texture. These instruments can also measure relative contents of different compounds in samples.
Use of e-noses and e-tongues in food safety depends on the devices' ability to smell or taste evidence of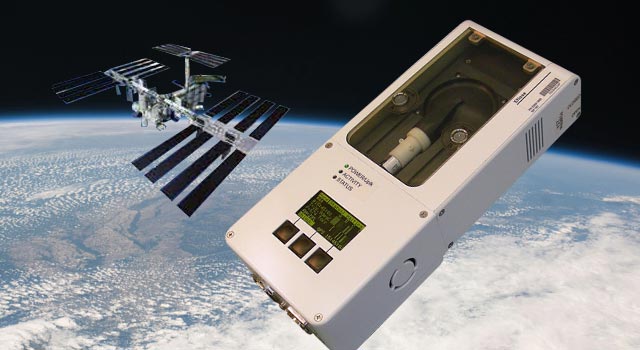 The ENose flew for six months on the International Space Station monitoring the air the astronauts breathed. Source: NASA/JPLspoilage or contamination. An e-nose combines a multisensory array with a transducer to convert analog signals to digital, software, a gas sample collection chamber and a sampling container. An artificial neural network (ANN) enables pattern matching between a sample and a database of stored characteristics of specific compounds. E-tongues operate in a similar manner. In both cases, the instruments have to have access to contaminants' chemical profiles to compare to sample contents. Contaminants include unallowable substances – such as the melamine found in adulterated milk in 2008 and pesticides in many foods – as well as pathogens.
Current applications for these instruments range from the dairy industry to wine to beer. Portable versions of both, including a paper-based electronic tongue system, are available.
Nuclear magnetic resonance
Nuclear magnetic resonance (NMR) techniques show promise as a tool in food safety evaluation. Food scientists use this technology to figure out structures and contents of food samples. An advantage of NMR analysis is that the researcher does not have to know which pathogens or adulterants to look for. With other methods, a sample that passes tests for specific substances could still contain a damaging or lethal contaminant. NMR testing takes less sample preparation than traditional spectroscopic methods, and screening can simultaneously detect the composition of a food and the presence of adulterants.
Food safety in a changing world
Concern over food safety exists at both micro- and macro-levels. On a day-to-day basis, people who live in countries where food production, preservation, distribution and storage are strictly regulated do not give a thought to the safety of a can of tomatoes or a package of fresh meat, nor should they need to do so. Setting aside considerations that improperly processed food can lead to illness and death, food supply and public policy experts are concerned that a bad actor could use food as a vector for spreading mass morbidity and mortality. All parts of the food supply chain, from the farmer or fisherman through transportation, processing, packaging, delivery and sale, could be vulnerable to tampering. The availability, continued development and application of a variety of tools for monitoring food safety – along with vigilance – will be necessary to protect food supplies now and into the future.